Harrison Ford Confirmed For 'Ender's Game,' Abigail Breslin Signs On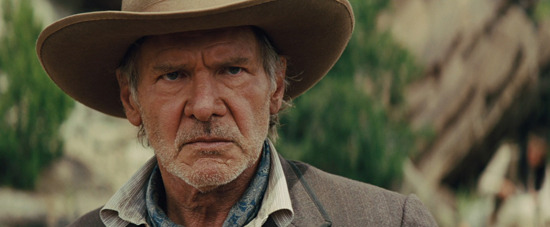 Harrison Ford is really back. After quite a few years in which the actor took only occasional roles, we've seen him in Cowboys & Aliens this past summer, and he just signed to play famed baseball manager Branch Rickey in the Jackie Robinson biopic 42.
And now Ford is going to do another real sci-fi picture, as he has signed to play Colonel Hyram Graff in Gavin Hood's adaptation of the Orson Scott Card novel Ender's Game, after being rumored as one of the actors likely to be offered the role
Variety says that Abigail Breslin is also confirmed for the cast, as Ender's older sister Valentine; Jimmy "Jax" Pinchak will play Ender's older brother, the abusive Peter Wiggin.
So we've got Asa Butterfield (Hugo) as Ender Wiggin, a young kid who is recruited to an elite battle school, where kids are trained in preparation for a third conflict with an alien race called the Formics. Two previous conflicts nearly destroyed humanity. As he participates in simulated wargames at the school, Ender shines as a tactical genius and is quickly highlighted as the most promising student. But the conflict with the Formics is going to end a bit differently than Ender expects.
Ford's character is in command of training at the school, and his relationship with Ender is defined by his domineering nature. He is pushing Ender for a specific reason, however, and the character isn't just a gruff badass with a strict military haircut. Oh, wait. With late-model Harrison Ford in the role that might be exactly what he is. But we can hope for more.
Aramis Knight, Moises Arias, Suraj Parthasarathy, Conor Carroll and Khylin Rhambo will play other kids at the school, and Hailee Steinfeld is confirmed for the cast, too, as one of the few female students at the battle school.Ender's Game came out of a long confinement in development hell when Gavin Hood's script was picked up and greenlit by Summit; the Wolverine and Tsotsi director will helm the film as well. Ender's Game is set for release on March 15, 2013.
After years of looking on as this novel tried to get to the screen, I'm curious, in a detached way, about how this is going to work out. There is a strong anti-war aspect of Ender's Game that seems crucial to the story, but I wonder how it will come across in the film.