Casting Bits: Jay Baruchel In 'The Rebel Kind', Saoirse Ronan In 'How I Live Now', Kaya Scodelario In 'Emanuel And The Truth About Fishes'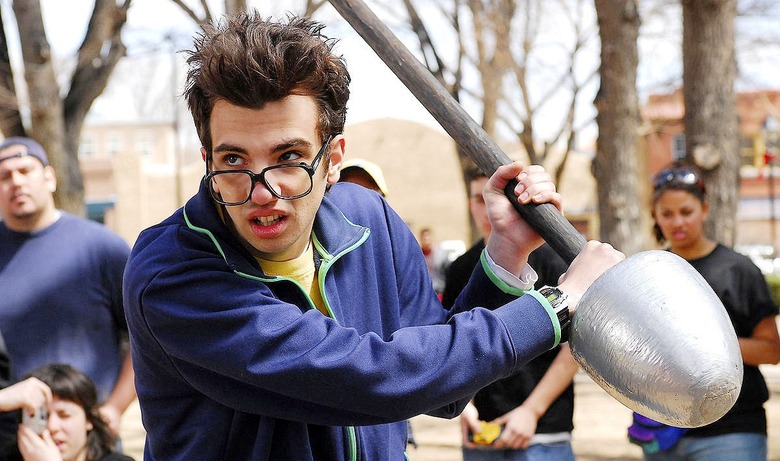 Jay Baruchel has built a nice career playing lovable nerds, but for his newest role he'll be transforming himself into a full-on rock star. The former Undeclared actor has signed on to star in The Rebel Kind, based on a memoir by John Armstrong. As frontman of The Modernettes, Armstrong — or "Buck Cherry," as he was called then — was at the heart of the rising Vancouver punk scene in the '80s.Reg Harkema (Monkey Warfare) has written the script and is set to direct, with Patrick Carroll, Andria Spring, and Kevin Eastwood producing. The Rebel Kind will shoot next fall in Vancouver. Baruchel will next star in the hockey comedy Goon, which he wrote with Evan Goldberg. [Variety]
After the jump, Atonement actress Saoirse Ronan revisits World War II — this time as a New Yorker — and Skins star Kaya Scodelario steps in for Rooney Mara.
Ronan, who last starred in this year's Hanna, will next appear in the teen assassin flick Violet & Daisy. In addition, she's currently shooting Neil Jordan's Byzantium and was recently cast as the lead in Andrew Niccol's Stephenie Meyer adaptation The Host. [Variety]
Skins star Kaya Scodelario has signed on to replace Rooney Mara in Emanuel and the Truth About Fishes, from Tanner Hall co-director Francesca Gregorini. The script, also by Gregorini, revolves around a troubled young woman named Emanuel who babysits for her for her mysterious new neighbor — only the child in question isn't an actual baby, but a lifelike doll. Emanuel plays along and befriends the neighbor anyway, perhaps because the woman happens to look eerily like Emanuel's dead mother.
Scodelario recently wrapped Now Is Good with Dakota Fanning and Jeremy Irvine. She currently stars in Andrea Arnold's Wuthering Heights, which premiered this fall in Venice and will hit Sundance next month. [Variety]