Now Lionsgate Is Remaking 'American Psycho;' Screenwriter Hired For New Version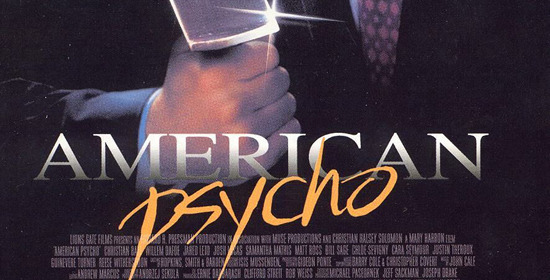 We've heard rumblings and now the threat is real: Lionsgate is developing a new film based on the Bret Easton Ellis novel American Psycho. The studio has just hired Noble Jones to write the script. Jones seems at first like an unknown quantity, as his few IMDB credits include second-unit director on part of The Social Network, and shooting and directing the doc 10 Days Out: Blues From the Backroads. But he's also got credits as a commercial and music video director, so it's not like he came out of nowhere.
A few more details on the new American Psycho are below.
Variety has the news, but no real details other than the fact that Lionsgate wants a new version of the story that Mary Harron previously directed with Christian Bale in the lead role. That performance is one of Bale's distinctive works, and in fact such a specific and iconic turn that it is really difficult to imagine anyone else playing yuppie and killer Patrick Bateman.Deadline adds that Jones' script is finished and he hopes to direct, and that the film is intended as an "updated, down and dirty low budget" version of the story that looks at how NYC has changed since 2000, when the original film was released. (But that's not when the film was set, so... oh, don't apply logic to this thought process. Maybe the idea is to look at how NYC has changed since the '80s, and Deadline just worded it poorly.) The city has changed a hell of a lot, thanks in part to 9/11, and the new script looks at how Patrick Bateman's actions would work out in the new New York. So this won't be a straight remake, and there's something to be said for that.
I don't get upset about most remakes, but still: Bale's work in the original movie is going to be difficult to match, much less top. Why compete with that? Name recognition didn't do anything to help American Psycho II, the only barely-related sequel no one wanted, so why would it be a great thing for the remake that no one wants?
(There's also that stage musical in the works, but that's in a different medium, which helps separate it from the film.)
This is a project in the early stages, so we might not hear much more about it for a while.