Universal Officially Announces Hollywood Wizarding World Of Harry Potter And Orlando Expansion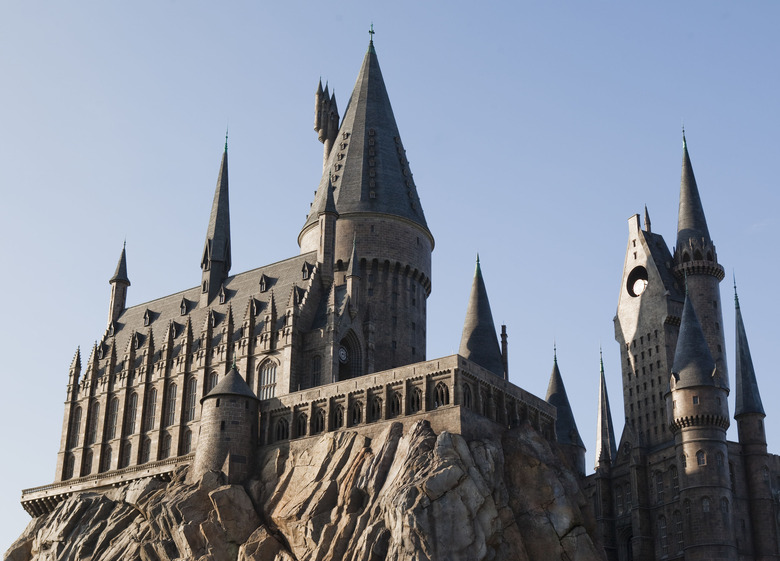 Earlier this month, word leaked out that Universal was planning to build a second Wizarding World of Harry Potter theme park world in the Universal Studios Hollywood theme park. Days later, we confirmed that the Jaws attraction would be closing in Universal Orlando to make way for a new attraction. And yesterday we reported a rumor from a usually good source that Amity would be replaced with an expansion of the Wizarding World which would involve Harry Potter's London, Diagon Alley, and a Hogwarts Express train that would transport guests in between the two parks (Universal Orlando and Islands of Adventure) into "the wizarding world." While details have still not been revealed, Universal held a press conference today to announce that Harry Potter would be coming to the Hollywood park, and that the Wizarding World would expand in Orlando. Still no details on what the expansion will entail, and what rides (new or old) the Hollywood Potter area might include — although I expect it will combine some of what is already in the Wizarding World in Orlando (definitely the Forbidden Journey ride) as well as some elements of the announced expansion (Diagon Alley? A new ride?) Read the press release after the jump.
HOGWARTS IS COMING TO HOLLYWOOD!Warner Bros. and Universal Parks and Resorts to bringThe Wizarding World of Harry Potter to Universal Studios HollywoodSignificant Expansion Also Planned forThe Wizarding World of Harry Potter at Universal Orlando Resort
Hollywood, CA (Dec. 6, 2011) – Warner Bros. Entertainment and Universal Parks and Resorts today announced a partnership to bring The Wizarding World of Harry Potter – the enormously popular themed entertainment environment which debuted in Orlando in June 2010 – to Universal Studios Hollywood.
The two companies also announced their plans to significantly expand The Wizarding World of Harry Potter at Universal Orlando Resort.
The Wizarding World of Harry Potter at Universal Studios Hollywood will be as impressive as what has been created in Orlando – and is expected to transform tourism in Los Angeles for decades to come. It will be a fully immersive environment for the entire family that brings the stories of Harry Potter to life and is faithful to the visual landscape of the films, including a majestic Hogwarts castle to serve as the centerpiece of the themed environment. The Wizarding World of Harry Potter at Universal Studios Hollywood will be created with the same commitment to authenticity and the same level of talent and resources as its Orlando counterpart.
"I am delighted that The Wizarding World of Harry Potter has been so popular with fans since the opening in Orlando last year and I am sure that the teams at Universal and Warner Bros. will bring their expertise and attention to detail to Hollywood to make this new experience equally as exciting," said J.K. Rowling.
The Wizarding World of Harry Potter at Universal Orlando Resort opened in June 2010 and immediately captured global attention. It is a spectacularly themed land that includes Hogwarts castle, Hogsmeade and multiple themed attractions. Specific details of its expansion will be announced over time.
"The announcement of our partnership with Universal to bring The Wizarding World of Harry Potter to Hollywood and expand what already exists in Orlando is probably the best holiday gift we could give to the legions of Harry Potter fans worldwide," said Barry Meyer, Chairman & CEO, Warner Bros. "Everyone involved with these projects is committed to continuing the enchantment of J.K. Rowling's masterful books as they were brought to life on screen in our eight films and dedicated to extending the magic of the experience for generations of fans to come."
"This is an incredible moment for Universal Studios and the millions of guests who visit our theme parks," said Ron Meyer, President & COO, Universal Studios. "The Harry Potter stories are some of the most powerful of our time and we are honored to expand our Orlando experience and bring The Wizarding World of Harry Potter to Hollywood, forever changing family tourism in Los Angeles."
"The Wizarding World of Harry Potter is an entirely new level of themed entertainment that brings the stories of Harry Potter to life in incredible ways," said Tom Williams, Chairman and CEO, Universal Parks and Resorts. "We are thrilled to be able to share this experience with our guests in Hollywood. And we are thrilled to take what has been created in Orlando to even greater levels."
###
About Universal Parks & Resorts
Universal Parks & Resorts (UPR), a unit of Comcast Corporation's NBCUniversal, encompasses today's most relevant and popular entertainment experiences, creating emotional connections with guests around the world. Each year, millions of guests visit Universal theme parks to experience thrilling, world-famous attractions based on popular culture's most compelling stories and characters. With three-time Academy Award winner Steven Spielberg as creative consultant, Universal has created attractions that use ground-breaking technology to deliver experiences that cannot be found anywhere else.
NBCUniversal is one of the world's leading media and entertainment companies in the development, production, and marketing of entertainment, news, and information to a global audience. NBCUniversal owns and operates a valuable portfolio of news, sports and entertainment networks; Universal Studios, a premier motion picture company; significant television production operations; a leading television stations group; and world-renowned theme parks.
About Warner Bros. Entertainment
Warner Bros. Entertainment is a global leader in all forms of entertainment and their related businesses across all current and emerging media and platforms. A Time Warner Company, the fully integrated, broad-based studio is home to one of the most successful collections of brands in the world and stands at the forefront of every aspect of the entertainment industry from feature film, television and home entertainment production and worldwide distribution to DVD, digital distribution, animation, comic books, video games, product and brand licensing, international cinemas and broadcasting.
Harry Potter continues to be a global phenomenon. Each of the seven books by author J.K. Rowling has broken sales records, with the series to date having sold approximately 450 million copies worldwide and translated into more than 70 languages. The Harry Potter films, produced by Warner Bros. Pictures, have grossed more than $7.7 billion to date worldwide at the box office, making Harry Potter the largest-grossing film franchise in history.