First Look: Jeremy Renner And Gemma Arterton In 'Hansel And Gretel: Witch Hunters'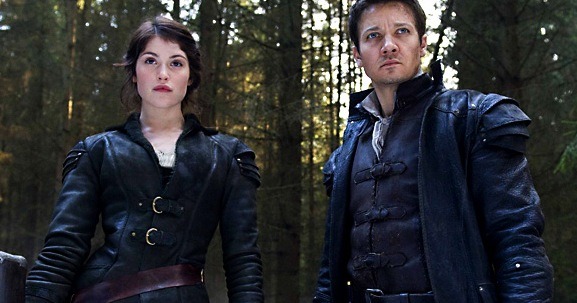 Now that we've seen the trailers for both of next year's Snow White adaptations, it's time to turn our attentions to another fairy tale that's getting the Hollywood revamp treatment. Starring Jeremy Renner and Gemma Arterton, Hansel and Gretel: Witch Hunters picks up with the titular siblings years after their traumatic encounter with a cannibalistic witch. As adults, the duo have become bounty hunters determined to cleanse the countryside of witches.
So, what exactly do a pair of childhood fairy tale victims turned vengeful grownups look like? Hit the jump for the first glimpse of Renner and Arterton in costume and ready for business.
Not bad, not bad. I'm digging the costumes, which perfectly straddle the line between modern action and playful fantasy, and Renner and Arterton both look great in them. My only (slight) quibble has to do with the fact that Renner is about fifteen years older than Arterton, and it shows — there's just no way this 40-year-old actor and this 25-year-old actress look like they would've been kids together. Then again, I suppose there's no reason to assume aging works the same way in fairytale-land as it does here.
Entertainment Weekly, which posted the picture (in case the watermark didn't make it obvious) also has an interview with Arterton, in which she describes the film as having a "[Quentin] Tarantino feel" — comedic, but also "very, very dark, and bloodthirsty." The actress also expounds on the differences between Gretel, who's "feminine" and "much more in tune with her spiritual side," and her brother Hansel, whom Arterton describes as "a typical action hero, cheeky, funny, a womanizer," as well as the complicated relationship between the two. Head over to their site to read the whole thing.Dead Snow helmer Tommy Wirkola directs the film from a script he wrote with Dante Harper. Peter Stormare and Famke Janssen also star, as a villainous town sheriff and an evil witch leaser, respectively. Hansel and Gretel: Witch Hunters hits theaters March 2, 2012.