'Se7en' Screenwriter Andrew Kevin Walker Boards David Fincher's '20,000 Leagues Under The Sea'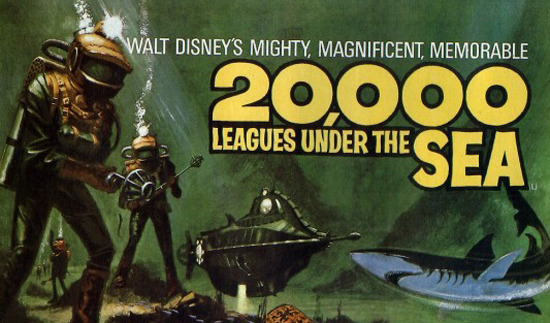 Some 16 years after they wowed critics and audiences alike with the serial killer pic Se7en, director David Fincher is set to reunite with screenwriter Andrew Kevin Walker. But those hoping for another dark, twisted thriller probably shouldn't hold their breaths — the project they'll be collaborating on is Disney's 20,000 Leagues Under the Sea, which Fincher has been attached to since last year.
Inspired (but not too closely) by the classic Jules Verne tale, the 3D adventure centers around the determined Captain Nemo of the Nautilus, marine biologist Pierre Aronnax, and harpoonist Ned Land. Or at least it did in its last draft. More details after the jump.
In addition to Se7en, Walker's previous credits also include The Wolfman, Sleepy Hollow, and 8MM. He's also known for his script doctoring work, with uncredited rewrites on Event Horizon, Fight Club, and more.
Seeing as it's a four-quadrant Disney picture, there's obviously a limit to how disturbing 20,000 Leagues Under the Sea can get. Still, Fincher's never shied away from the darker side of things and neither has Walker. My guess (and my hope) is that we'll wind up with family film that's  a little smarter and edgier than your usual kiddie fare. Lord knows they've got plenty to work with with the mysterious, antiheroic Nemo.
However, it remains to be seen when exactly 20,000 Leagues Under the Sea will take off. Fincher has yet to decide what he wants to after next month's The Girl with the Dragon Tattoo, and has a few different possibilities on the table at the moment including Cleopatra and the Dragon Tatoo sequel The Girl Who Played With Fire.
Disney's found great success with Verne's nautical adventure once before, in one of their earliest live-action movies. Released in 1954 with Kirk Douglas, James Mason, Paul Lukas, and Peter Lorre starring, 20,000 Leagues Under the Sea was the second highest grossing film of its year and picked up two Oscars for Best Art Direction and Best Effects. (It was also nominated for Best Film Editing, but lost to Elia Kazan's On the Waterfront.)