The Final 'Happy Feet Two' Trailer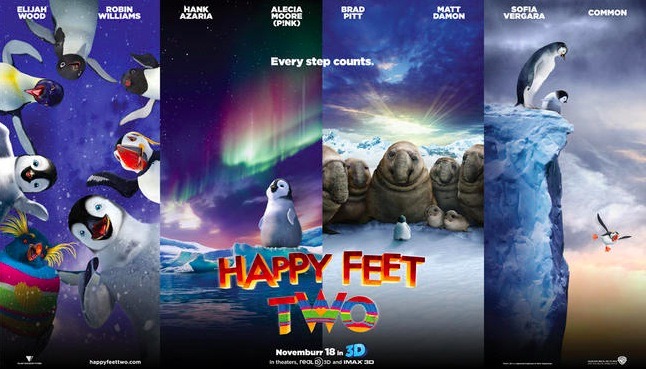 With only a few days until Happy Feet Two is released in 2D, 3D and IMAX 3D, it seems kind of odd that Warner Bros. would release a brand new trailer. Then again, they must think they have a huge hill to climb this weekend considering they're opening versus The Twilight Saga: Breaking Dawn Part 1. While that will most certainly win the weekend, possibly in record setting fashion, Happy Feet Two has one major thing going for it. It looks like it might actually be good. So, if you're on the fence of which major release to see this weekend, maybe this brand new, final trailer will send you on a march to the penguins. Check it out after the jump.
Thanks to Yahoo Movies for the trailer, which features an introduction but one of the film's younger stars, Benjamin 'Lil P-Nut' Flores Jr.
With a voice cast that features Elijah Wood, Robin Williams, Brad Pitt, Matt Damon, Hank Azaria, Sofia Vergara, Pink and Hugo Weaving, Happy Feet Two is sure to be a hit but it's going to have stiff competition, not only from Twilight, but also The Muppets and Hugo next week, all of which are vying for the same family audience. That must be the reason why Warner Bros. decided to release this final trailer so late in the game. It showcases the scope, humor and adventure of the film.
Here's the film's official plot description. It's out Friday:
Mumble, The Master of Tap, has a problem because his tiny son, Erik, is choreo-phobic. Reluctant to dance, Erik runs away and encounters The Mighty Sven — a penguin who can fly! Mumble has no hope of competing with this charismatic new role model. But things get worse when the world is shaken by powerful forces. Erik learns of his father's "guts and grit" as Mumble brings together the penguin nations and all manner of fabulous creatures — from tiny Krill to giant Elephant Seals — to put things right.