Casting Bits: Glenn Close And Elizabeth Olsen In 'Thérèse Raquin', David Schwimmer In 'The Iceman', Max Irons In 'The Host'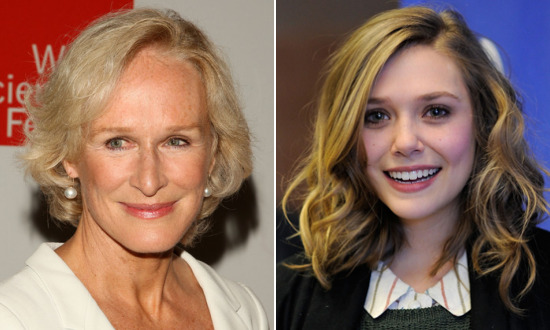 Hot off two of the year's most buzzed-about performances in Albert Nobbs and Martha Marcy May Marlene, Glenn Close and Elizabeth Olsen have signed on to star in Thérèse Raquin. Charlie Stratton is writing and directing the erotic thriller, which is based on a 19th century novel and play by Émile Zola. Olsen will lead the cast as the titular young woman, who's pushed into an unhappy marriage by her overbearing aunt (Close). Thérèse eventually falls into a passionate affair with her husband's friend Laurent, with destructive consequences for all involved.
Close has reportedly been attached to the film for years, though Olsen's involvement appears to be a recent development. Thérèse Raquin is scheduled to begin shooting this spring. [Entertainment Weekly]
After the jump, David Schwimmer gears up to kill people and Saoirse Ronan gets another love interest for The Host.
Ariel Vromen will direct from a script he wrote with Morgan Land, based on interview footage as well as the book The Iceman: The True Story of a Cold-Blooded Killer by Anthony Bruno. Also lined up to star are Maggie Gyllenhal as Kuklinski's wife, who knows nothing of his real career, and Ryan O'Nan as a "young hustler" who somehow gets involved with Kuklinski. Production will start January in Louisiana. [Variety]
Earlier this week, Jake Abel (Percy Jackson & the Olympians: The Lightning Thief) became the frontrunner to play one of the two male leads in Andrew Niccol's The Host, and we've now learned that Max Irons (Red Riding Hood) has landed the other. Irons was up against several young up-and-comers for the part, including Liam Hemsworth (The Hunger Games), Kit Harrington (Game of Thrones), and Jai Courtney (One Shot).
Saoirse Ronan stars as Melanie, whose body is possessed by an alien parasite called Wanderer. Irons will play Melanie's boyfriend Jared, who has understandably conflicting emotions about Melanie after Wanderer takes over; Abel is set for Ian, who initially attacks Wanderer but comes to fall in love with her. [Deadline]