'Journey 2: The Mysterious Island' Trailer: The Rock May Be This Movie's Best Effect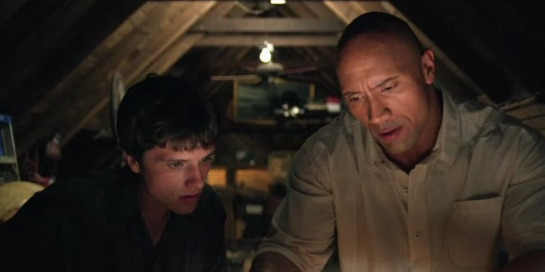 One of the movies that kicked off the current wave of 3D films was Journey to the Center of the Earth 3D, which arrived more than a year before Avatar cemented 3D as the next big wave in theatrical technology. Now the sequel to that movie is finished, with Dwayne 'The Rock' Johnson stepping in for former lead Brendan Fraser. He plays the new stepfather to young adventurer Sean, once again played by Josh Hutcherson, and Michael Caine plays Sean's long-lost explorer grandfather. Luis Guzman is the hapless, bungling comic relief, and Vanessa Hudgens plays his daughter, who naturally becomes the love interest for Sean.
Like the first film, Journey 2: The Mysterious Island looks like a pretty cheap affair. It is obviously made as easy family adventure, and there's nothing wrong with that. But families and their kids now routinely watch stuff that looks a whole lot more well-crafted than this, so I wonder how people will respond. The best effect isn't even a CGI dinosaur, but the Rock's pecs.
Check the trailer below.
Yahoo has the trailer in HD.
Young adventurer Sean receives a coded distress signal from a mysterious island where no island should exist–a place of strange life forms, mountains of gold, deadly volcanoes, and more than one astonishing secret. Unable to stop him from going, Sean's new stepfather joins the quest. Together with a helicopter pilot and his beautiful, strong-willed daughter, they set out to find the island, rescue its lone inhabitant and escape before seismic shock waves force the island under the sea and bury its treasures forever.
Journey 2: The Mysterious Island opens on February 10, 2012.