'The Lady' Review: Luc Besson Is Back With An Inspirational True Story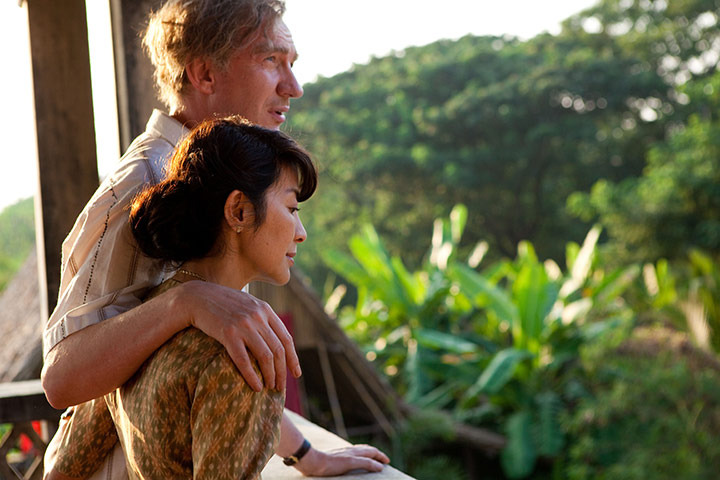 In the past several years, Luc Besson's name attached to a movie usually meant two things: he didn't direct it and it's a cheesy action film. Since The Fifth Element in 1997, Besson has directed a few films, but he's produced many more and it felt like the man who made Leon: The Professional and La Femme Nikita was just waiting for some inspiration. Maybe he was waiting for Aung San Suu Kyi.
A Nobel Peace Prize Winner in 1991, Aung San Suu Kyi is the daughter of a Burmese General who was murdered in 1947, eventually leading to the military taking control of the country. Years later she left Burma to go to school but in 1988, after marrying a foreigner and having two sons in Oxford, she returned and immediately took her father's place as the head of a pro-Democracy movement in the beautiful but violently oppressed country. Over twenty years and several terrible hardships later, she's still struggling today.
This is the story of The Lady, and it's a return to form for a more mature Besson.  It's not flashy, it's not action-packed, it's just Michelle Yeoh as Suu Kyi, David Thewlis as her husband Michael (and his twin brother) and one of the most incredible true stories of standing up against evil imaginable. The film recently played at the AFI Fest Presented by Audi, opens on December 2 and you can read more after the jump.
Much as Besson's name carries a certain connotation, so does the name Michelle Yeoh. The star of films like Crouching Tiger, Hidden Dragon and Tomorrow Never Dies, we always knew she could kick ass, but so rarely do American audiences get to see her act. Yeoh is Oscar-worthy for her confident portrayal of Suu Kyi, a woman who gives up everything for the people of her home country. She's forced to abandon her family, she's forced to live in solitude and as more and more obstacles are put in her way, she just takes it. Is she stubborn? Yes. But she's also incredibly inspiring.
Oddly enough, she's not what makes The Lady so powerful, though. She's not even the focus of the film. Yes, she's the lead but her husband Michael is the audience's in. If The Lady only told us Suu Kyi's story, it might have been hard to relate to a character so selfless and non-violent. But we can easily relate to Michael, a flawed man who admires and loves this idealistic woman. Through him, we see a dire situation with human eyes and feel deeply for everyone involved. As for his performance, Thewlis more than holds his own with Yeoh. He has more to do, a much broader arc and is heartbreaking and uplifting.
Besson is on the top of his game here and The Lady is an important movie not just because of the filmmaking skill and top notch performances. It's important because it sheds a light on a struggle that's still going on, even as you read this.
/Film Rating: 8.5 out of 10