Michael Bay's Trailer For 'Need For Speed: The Run'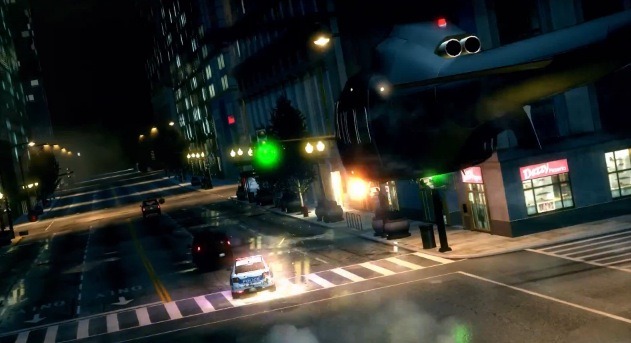 If ever a video game franchise begged for the blessing of action director Michael Bay, Need for Speed would be it. The title could almost be a subtitle for the man behind Bad Boys, The Rock and Transformers and now he's directed his first video game trailer for the franchise's latest game. Need for Speed: The Run will be released November 15 and centers on a cross country race where the winner gets $25 million and everyone else dies. Bay's trailer is comprised completely of in game footage and highlights the game's two lead voices, Never Back Down's Sean Faris and Mad Men's Christina Hendricks, as well as massive action set pieces.
After the jump, see Bay's take on racing video games as well as a behind the scenes video of the master of Bayhem himself.
Here's the trailer. The behind the scenes video is below.
Behind the scenes:
The trailer looks really nice and you can certainly see Bay's vision weaved in and out of it. But while video game trailers such as this and the one for Dead Island are surpassing even movie trailers, rarely do the games themselves live up to the expectations. I guess we'll find out in a few weeks.
Here's the press release with a bunch of additional information:
What happens when the world's biggest action director joins forces with the gaming's biggest racing franchise? You get this holiday's most action-packed television commercial. Renowned Hollywood director Michael Bay has created a spectacular one-of-kind, blockbuster television commercial for this season's most anticipated release, Need for Speed™ The Run. Over the past few days, fans have been racing to Facebook to 'like' and 'share' an exclusive Need for Speed teaser and accelerate the unveil of the complete, high-octane two-minute trailer before its television broadcast debut during next week's Monday Night Football game between Chicago and Philadelphia.
The trailer showcases how Bay's signature high-intensity, Hollywood style perfectly matches up with the blockbuster action already in Need for Speed The Run. Built completely from in-game footage, this television commercial is a stunning display of the heart-pounding, adrenaline-fueled racing found in the game as players race from San Francisco to New York.
To create this unique promotional spot, Bay spent time playing the game and spoke with the creative production team to get a feel for Need for Speed The Run and the franchise itself, which is known for bringing exhilarating racing action to the forefront of real-life car culture. Bay is the world-renowned director of some of the biggest, most visually spectacular action films of all time, including Transformers, Pearl Harbor and The Rock.
Need for Speed The Run features Mad Men's Christina Hendricks, Never Back Down's Sean Faris, 2011 Sports Illustrated Swimsuit Cover Model Irina Shayk and Sports Illustrated Swimsuit Model Chrissy Teigen as characters in an intense race-for-your-life story taking players on a cross-country race. Powered by Frostbite™ 2, Black Box Studio makes its return and takes the action racing genre to new heights with gorgeous visuals and car physics that hug the road at insanely fast speeds. The game is the action racing blockbuster of the holiday.
Developed by Black Box, a studio of Electronic Arts, Need for Speed The Run will be available November 15, 2011 in North America and November 17, 2011 in Europe for the Xbox 360® videogame and entertainment system, PlayStation®3 computer entertainment system, PC, Wii™ and Nintendo 3DS™. For more information on Need for Speed, visit http://www.needforspeed.com or become a fan on Facebook at http://www.facebook.com/needforspeed and follow us on Twitter http://www.twitter.com/needforspeed.