Plot Details Emerge For Terrence Malick's Movie With Ben Affleck, Rachel McAdams & Javier Bardem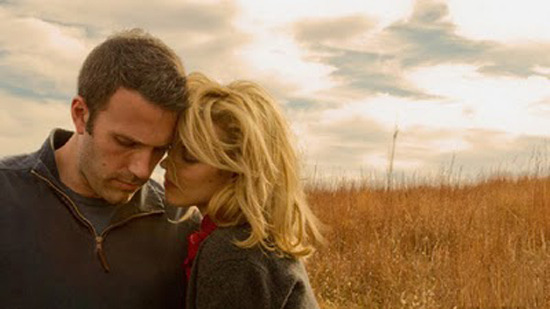 Terrence Malick news has been plentiful of late. I'd almost feel uneasy about this — a flurry of activity from a guy known for completing an average of one film every decade — if it wasn't so pleasant. Yesterday we got the announcement of two new films from the director, Lawless and Knight of Cups. Those both feature Christian Bale and Cate Blanchett, as well as a handful of other actors.
Those are two of Malick's four upcoming potential films. Another one is the IMAX doc Voyage of Time, of which we've heard rumblings for a few years and is supposedly still going to be finished. And then there's a movie that is already shot: the Untitled Terrence Malick Project, which has also been referred to as The Burial. That one features Ben Affleck, Rachel McAdams, Javier Bardem, Olga Kurylenko and Rachel Weisz. It was shot last year, with some reshoots taking place this past spring, and is in post-production. In true Malick form, reliable details on that movie have been hard to come by. In the wake of yesterday's bombshell announcement, some new info did come to light, however, and it is after the break.
This untitled film was originally scheduled to star Christian Bale, but he was replaced by Ben Affleck. (Bale and Malick have obviously found time to work together.) We might see it next year, or we might not, depending on who buys it for distribution, and when. The LA Times says distribution offers have been made, but that Malick has turned them down.
The site also confirms previous reports that the movie once called The Burial is a love triangle, and that it has a contemporary setting, which is a first for Malick. It also says the movie features Javier Bardem as a priest, which we knew already. (It does not make mention of the recent report that Michael Sheen and Amanda Peet have roles in the movie; like Jessica Chastain, who has a very small part, they might be seen only briefly.)
The LAT says the story goes like this:
...a philanderer (Affleck) who, feeling at loose ends, travels to Paris, where he enters a hot-and-heavy affair with a European woman (Olga Kurylenko). Said Lothario returns home to Oklahoma, where he marries the European woman (in part for visa reasons). When the relationship founders, he rekindles a romance with a hometown girl (Rachel McAdams) with whom he's had a long history.
Given that this is Terrence Malick, that could change by the time we eventually see the film — he might bring in someone to do a voiceover narration that reconstructs the footage in ways that are very different from what is outlined above.