Liam Hemsworth, Kit Harrington, And More Compete For Male Leads In Stephenie Meyer Adaptation 'The Host'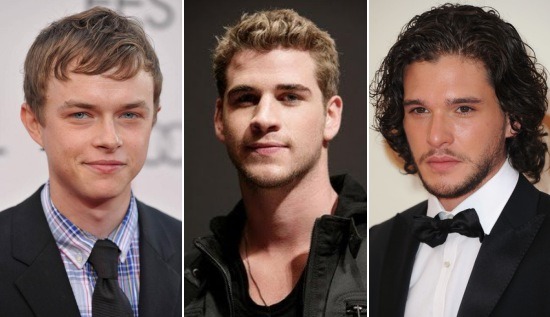 With the uber-successful Twilight film series due to end next November, Hollywood is turning its attention that other Stephenie Meyer adaptation, the sci-fi romance The Host. In Time writer/director Andrew Niccol boarded the project earlier this year with Saoirse Ronan set to star, and now a group of young up-and-comers are getting ready to compete for the two male leads.
Liam Hemsworth (The Last Song), Kit Harrington (Game of Thrones), Jai Courtney (Spartacus: Blood and Sand), and Max Irons (Red Riding Hood) are set to test for a character named Jared, while Dane DeHaan (The Place Beyond the Pines), Thomas McDonnell (Prom), Augustus Prew (Charlie St. Cloud), and Jake Abel (The Lovely Bones) will test for the part of Ian. More details after the jump.
Melanie Stryder [is] one of the last humans putting up a fight against an alien species called Souls. These parasites invade human bodies, fuse to each person's consciousness and systematically erase their personalities. Melanie is captured by the aliens and implanted by a Soul called Wanderer, something of a legend because of all of the "hosts" she has attached to on numerous planets. Wanderer's goal is to get Melanie to give up the remaining pockets of humans, but instead the alien finds Melanie to be unique in her unwillingness to surrender her consciousness. Wanderer is so overwhelmed by Melanie's memories and feelings, the alien is driven to reconnect with Melanie's old life.
Jared is Melanie's boyfriend, who has powerfully conflicting emotions about this Wanderer-posessed version of Melanie; Ian is a human who initially attacks Wanderer before coming to fall in love with her. Hemsworth is definitely the biggest name in the bunch, but he may be tied up with all of his other projects, particularly the Hunger Games series. Abel has the distinction of being the only actor who's worked with Ronan previously, in Peter Jackson's The Lovely Bones.
It sounds like there's potential for some interesting acting challenges for all three leads, if Niccol explores the tension between Melanie and Wanderer instead of just focusing on the more obvious love-triangle aspect. However, if the tiresome Edward vs. Jacob stuff in Meyer's The Twilight Saga is any indication, I'm guessing I shouldn't hold out hope.
The Host is the first book in an intended trilogy by Meyer, and debuted at the top of the New York Times bestselling list when it was released in 2008. Production on Niccol's adaptation is scheduled to begin early 2012 in New Mexico and Louisiana, for a targeted release of March 29, 2013.
[Source: Variety]