Sequel Bits: '300: Battle Of Artemisia' Update, Shane Black Talks 'Iron Man 3,' James Mangold Talks 'The Wolverine,' Two More 'Cabin Fever' Movies Announced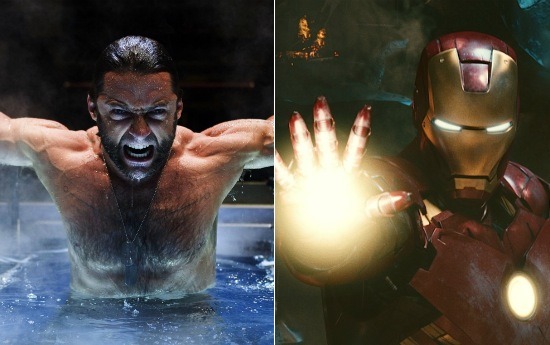 We here at /Film aim to please. So, instead of making you click on four different articles for your sequel themed updates, all you have to do is read this one. After the jump we've got news on the following:
Producers Mark Canton and Gianni Nunnari update us on the latest regarding the sequel to 300, 300 Battle of Artemisia
Shane Black had a lot to say about the actors, villains, themes and more in regards to Iron Man 3
James Mangold got in-depth about why he took The Wolverine and his plans for it
Two new Cabin Fever films, Cabin Fever: Patient Zero and Cabin Fever: Outbreak, will be shot back to back next year
Superhero Hype spoke to Canton and Nunnari, who are also producing Immortals, and asked for the latest on 300: Battle of Artemisia. They called the film "a work in progress," as Zack Snyder and Kurt Johnstad have officially turned in a draft of the screenplay but wouldn't comment on a potential Gerald Butler cameo. Here's what was said about the screenplay itself:
We have to say that Zack Snyder and Kurt Johnstad, his writing partner, have killed it. They've done a tremendous job making a highly intelligent, epic story that will stand on its own. But it's not a conventional sequel and, for what we do, that's what you hope and pray for. That you can be original and authentic at the same time.
The next piece of news was touched upon in today's Superhero Bits, but is worth expanding here. Shane Black, the director of the soon to be filming Iron Man 3, was in Long Beach for their Comic-Con and gave several piece of pertinent information about the sequel.
Jon Favreau, Gwyneth Paltrow and Don Cheadle will all reprise their roles in the film, which will have references to The Avengers but won't involve any of them. He had a great collaborative experience with co-screenwriter Drew Pearce but would not comment on the villain, only to dismiss the Mandarin as "a racist caricature." That all comes from an in-depth recap of the panel over at Comic Book Resources.
In addition, CBR got the only one on one interview with Black and he spoke at length about the film. It's a great read and I suggest you check it out. Here are just a few excerpts. First, he said he wouldn't be bringing the Demon in a Bottle storyline into the Iron Man films.
No, because if we go there — it's part of Tony's character, but I think the "Demon In A Bottle" aspect, if you go there, you really have to go there. The film then becomes about that, because the journey that involves recovering from alcoholism is an entire movie. I mean, I want to keep it dark and interesting and edgy and spicy and all those things, but I don't think we want to go as far as to deal with Tony's descent into alcoholic madness. That's maybe not where we want to be.
He also spoke about what he wants the movie to focus on to be successful:
Iron Man is a different type of property, in a way, because Robert Downey is a different type of actor, number one. If you look at the first "Iron Man," the events of the story feels like the crossover between what's in a comic book and what's in real life. There's always been the tendency to make Iron Man the real-world superhero who deals with things a bit more rooted in geopolitical reality and then have comic book elements added. What's interesting to me about the first movie, and to some extent the second movie, is the character. If you're really paying attention to the story, the more people care about the character, the more people will care about the outcome, I think.
Again, there's much more over at Comic Book Resources.
Next up, if you thought Shane Black spoke a lot about Iron Man 3 above, wait to you read how much James Mangold had to say about The Wolverine. Mangold did a very good interview with The Playlist and discussed almost everything that he's able to. As above, we urge you to head there to read the full interview but here are the newsie bits.
Originally, Mangold wasn't going to do the film but when he reconsidered, he did so because it was so different from the usual superhero film:
It's a kind of adventure following such a unique character also in a really unique environment. I mean, the fact that half of the characters in this movie speak Japanese, this is like a foreign-language superhero movie that's as much a drama and a detective story and a film noir, with high-octane action as it is anything like a conventional tentpole film.
He also confirmed that he and Mark Bomback have more or less completely reworked Christopher McQuarrie's script
Mark Bomback and myself have done a tremendous amount of writing on the movie. There's not a page that hasn't been worked and reworked and rethought and story-boarded. So it just is what it is; I mean, kind of the part of connecting to the movie and developing the scenes and finding the locations and devising the action is all about not only making it good, but also in the process making it your own.
There's much, much, much more (three "muchs") over to The Playlist. Head there to read the full interview.
Last, and kind of least when compared to 300, Wolverine and Iron Man, the Indomina Group just announced they've bought the rights to Eli Roth's Cabin Fever series and plan to shoot two films, Cabin Fever: Patient Zero and Cabin Fever: Outbreak, back to back next year in the Dominican Republic. Here are the plot descriptions complete with the reveal of the screenwriters:
Jake Wade Wall ("The Hitcher," "When Strangers Call") has signed on to pen the screenplay for "Cabin Fever: Patient Zero." When a cruise ship in the Caribbean collides with an abandoned research vessel, a deadly virus is unleashed. Passengers must find a way to survive before the flesh eating disease consumes them all.
"Cabin Fever: Outbreak" is being written by Adam and Deborah Marcus ("Leatherface 3D," "I Walked With a Zombie"). In this film a doctor and his family travel to a remote Caribbean island to investigate a minor flu outbreak, only to discover a vicious flesh-eating virus that threatens everyone on the island. The family is faced with responsibility to prevent a worldwide epidemic.
Based on those titles, how do you think the new films will fit into the Cabin Fever mythos?
And, out of all of this news, what are you most surprised by/excited about?