TV In Development: Starz Orders 'Da Vinci's Demons' By 'Dark Knight' Writer David Goyer, Plus: Michael Bay, Farrelly Bros., 'Scrubs' Writer Tim Hobert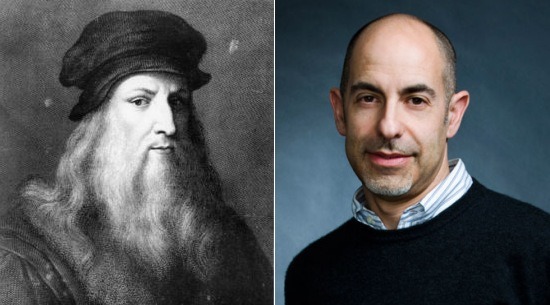 As with film, not every television project that enters development actually makes it to the screen — but sighing over what could've been is a task for some other day. Today, our curiosity is piqued by some of the more interesting-sounding series in the works, including shows by Transformers helmer Michael Bay (how's he gonna fit all those explosions on a tiny screen?) and Dark Knight writer David Goyer. I don't know that I'd actually want to follow all of these series if they actually made it to air, but I'll be keeping an eye on them to see how they pan out. After the jump:
Starz orders Da Vinci's Demons, by Dark Knight writer David Goyer
Michael Bay will exec produce Outsiders for The CW
NBC buys a new comedy by Scrubs writer Tim Hobert and the guy who played intern Lonnie on same
Showtime buys a new comedy from the Farrelly Bros.
As Goyer himself points out, his background in superhero tales make him an ideal choice to adapt a tale about the "near-mythic figure." "After working with characters like Batman and Superman, it made a strange kind of sense for me to dive into the facts and legends swirling around his origins." he said in a press release. Starz exec Carmi Zlotnik adds, "If modern day has Tony Stark, the Renaissance had da Vinci." Moreover, Goyer's got plenty of television experience under his belt already — his last small-screen gig was ABC's FlashForward, which he co-created with Brannon Braga. [Deadline]
Michael Bay's ethos seems to be "bigger is better," but for his next project he'll be going small (screen). Bay is set to executive produce Outsiders, an hourlong drama for The CW by writer Adam Glass (Supernatural). The story revolves around "a quirky sociology professor with an almost savant-like expertise in subcultures" who teams up with an uptight female detective to solve crimes involving the underground youth subcultures of Los Angeles. If Outsiders makes it to air, it'll be the first television project for Bay — though he's been attached to TV projects in the past, none made it past the pilot stage.Outsiders is part of an effort on The CW's part to target viewers outside its current core demo of females 18-49. Bay's involvement is expected to bring a larger male audience to the network. [Variety]Scrubs writer Tim Hobert and his younger brother Michael Hobert (Comedy Central Roast of Donald Trump) will collaborate on a new NBC comedy based on their own experiences working together in television. The untitled single-camera series will follow a twentysomething named Mike who thinks he's getting a lucky break when his older brother Tim, a commercial director, hires Mike to be his assistant. However, instead of the dream job Mike had envisioned, the gig actually consists mostly of pitching in with Tim's busy home life. The premise is inspired by actual events in which the real Tim hired his aspiring writer brother Michael to be his assistant, only for Michael to wind up doing mostly household chores and babysitting — all on the NBC payroll.
In real life, the Hoberts have worked together several times previously. Mike has played a recurring character on two of Tim's series, Scrubs and Spin City, and served as a production assistant on 'Til Death while Tim was an executive producer on the Fox series. [Deadline]
Hey, remember the Fox show Unhitched? No? That's probably because the critically panned show lasted just six episodes before getting cancelled — but apparently Showtime execs saw something in the team behind the series. Directors Bobby and Peter Farrelly and writers Chris Pappas, Mike Bernier, and Kevin Barnett and are set to reunite at the cable network for an untitled comedy, described as "a sometimes cynical, raunchy, Farrelly-style" series about a guy facing a midlife crisis after he's betrayed by his wife of many years.
The midlife crisis premise doesn't sound all that original, but I'll be curious to see if the new series does a better job than Unhitched did at translating the Farrellys' humor to television. All five will executive produce, with Pappas, Bernier, and Barnett writing and Peter Farrelly directing. [Deadline]