Troma Entertainment Selling Remake Rights For 'Class Of Nuke 'Em High' And 'Poultrygeist'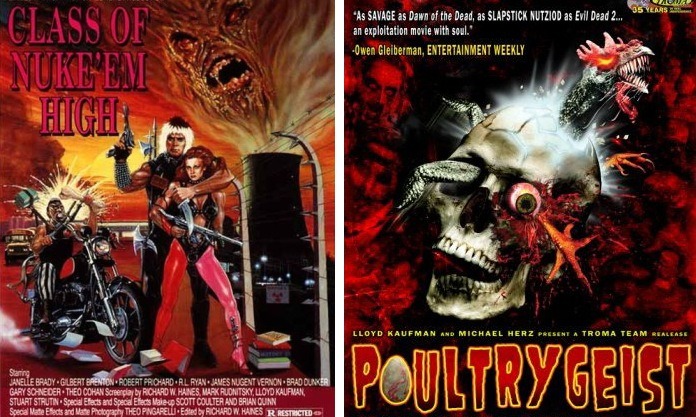 Troma Entertainment may be famous for its low-budget, independent approach to filmmaking, but the B-movie house isn't averse to the big-money kind, either. Last year saw the Fantastic Fest premiere of the Brett Ratner-produced Mother's Day remake, as well as the announcement of a Toxic Avenger reimaginging by to be produced by Akiva Goldsman and directed by Steven Pink (Hot Tub Time Machine). Now comes news that the studio is interested in doing still more remakes, and is currently in negotiations to sell the rights to Class of Nuke 'Em High and Poultrygeist. Read more after the jump.
The original Class of Nuke 'Em High, directed by Richard W. Haines and Troma President Lloyd Kaufman in 1986, tells how a radioactive leak in the Tromaville Nuclear Plant contaminates the marijuana consumed by the students in Tromaville High School. It sold about 500,000 copies just in the US, becoming a cult hit nearly as successful as Troma classics The Toxic Avenger and Sgt. Kabukiman N.Y.P.D.
And here's Poultrygeist:
Originally released in 2006, Poultrygeist follows Arbie, a young man trying to win back his ex-girlfriend Wendy by getting a job at the same New Jersey fried chicken fast-food restaurant where she works. Unbeknownst to Arbie and the other employees, however, the restaurant is located on sacred Indian burial grounds, which brings hordes of demonic chickens to attack everyone in the vicinity. Entertainment Weekly called Poultrygeist "as savage as Dawn of the Dead, as slapstick nutzoid as Evil Dead 2... an exploitation movie with soul."
This actually isn't the first time we've heard about potential remakes for these two films — Troma co-founder Lloyd Kaufman briefly mentioned back in 2010 that he had been approached by "some people." However, the new press release seems to suggest that the studio is now actively pursuing these remakes — and therefore, that they may be coming together soon.
But before you get too worried about the possibility of seeing all of Troma's works fall into the wrong hands, rest assured that the cult studio is still very much interested in updating its own properties as well. Earlier this week, the company announced that its next project would be Class of Nuke 'Em High Part IV, with Marc Gras and Dani Moreno slated to direct.