Horror Bits: Troma Announces 'Class Of Nuke 'Em High Part IV', Bloody Disgusting To Produce Anthology Film 'V/H/S', Teaser Trailer For '11-11-11'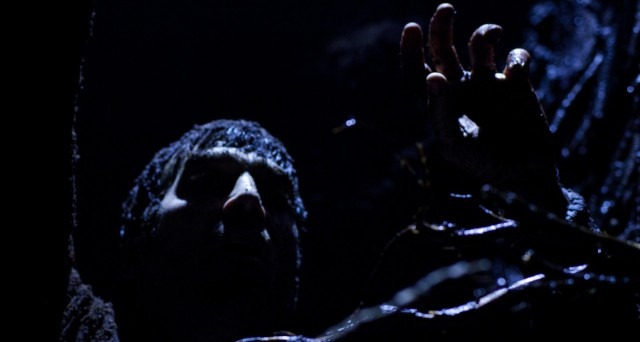 Dropping temperatures and the tenth page of the calendar means it's October. October means Halloween and Halloween means scary movies. And while movies like The Thing and Paranormal Activity 3 are in theaters, this October there's even more news about horror movies coming in the future. After the jump, we've got into on the following:
Troma will make their next movie, Class of Nuke 'Em High Part IV, in Spain and you can be a producer.
Fellow movie blog Bloody Disgusting is now making movies and their next film is an anthology called V/H/S featuring segments by Adam Wingard (You're Next), Ti West (The Innkeepers) and more.
A new trailer for Saw II-IV director Darren Lynn Bousman's upcoming horror film 11-11-11 (above) has been released and it will be out November 11.
Staring with the Troma news, they recently sent out a press release announcing their next film, the new Class of Nuke 'Em High installment, will be shot in Spain and fans have a chance to be a producer on the film:
Troma Entertainment, Inc. is proud to announce that Troma's Class of Nuke 'Em High franchise will have a new installment filmed in Spain with a Spanish cast and crew, produced by Mushnik's Entertainment in collaboration with Chaparra Entertainment (both based in Barcelona).
The original Class of Nuke 'Em High, directed by Richard W. Haines and Troma President Lloyd Kaufman in 1986, tells how a radioactive leak in the Tromaville Nuclear Plant contaminates the marijuana consumed by the students in Tromaville High School. It sold about 500,000 copies just in the US, becoming a cult hit nearly as successful as The Toxic Avenger and Sgt. Kabukiman N.Y.P.D. The first film was followed by two very successful sequels, Class of Nuke 'Em High Part II: Subhumanoid Meltdown and Class of Nuke 'Em High Part III: The Good, the Bad, and the Subhumanoid.
Directed by Marc Gras and Dani Moreno, Class of Nuke 'Em High Part IV will be the first Troma movie filmed in Spain. A portion of the film's budget will depend on  contributions made through the crowd-funding platform, Kifund (http://www.kifund.com/en/project/class-of-nuke-em-high-iv). Contributors at various levels will have exclusive opportunities, such as the chance to play a role in the film.
Bloody Disgusting is producing a new anthology film called V/H/S according to the Los Angeles Times. It'll feature six linked segments directed by Adam Wingard, Ti West, David Bruckner, Joe Swanberg, Glenn McQuaid and the team of Chad Villella and Matt Bettinelli-Olpin. It's described as "a found-footage film about oddballs who burglarize a country house only to find tape filled with cryptic video" with Wingard's segment as "the wraparound segment that ties all the others together." Sounds like a great concept for an anthology film which producer Brad Miska calls a blend of The Shining and The Blair Witch Project. It's currently in production.
Finally, we've covered Darren Lynn Bousman's 11-11-11 in the past, but now it's finally under a month away from release. The previous trailers have been incredibly suggestive and creepy and this is more of the same. Here's the new trailer thanks to Shock Till You Drop. The film will be out on November 11, distributed by Rocket Releasing and Big Air Studios
Which of these upcoming horror projects are you most excited for?