Superhero Bits: The Avengers, Ant-Man, Kick Ass 2, New York Comic-Con, Powers, Dark Knight Rises, Green Lantern 2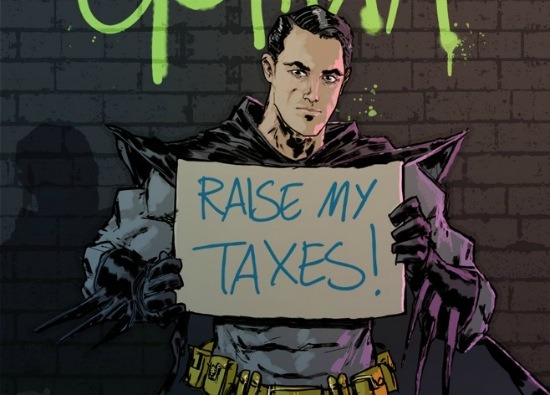 Is Cillian Murphy in The Dark Knight Rises? Want to watch the full Avengers teaser trailer from the end of Captain America: The First Avenger, a behind the scenes featurette of the Joss Whedon film or the first scene of Green Lantern: The Animated Series? When will we be able to see the pilot for Powers? Where does Tony Stark now live in The Avengers storyline? Does Joe Cornish have an ant-sized update on Ant-Man? What does Tom Hiddletson have to say about Loki's plans in The Avengers? Were there a lot of beautiful cosplayers at New York Comic Con? When might we get some Kick Ass 2 news and how does Bruce Wayne feel about the Occupy movement? Read about all of this and more in today's Superhero Bits!
The above video, Assembly Begins, about The Avengers, is from the Captain America: The First Avenger Blu-ray. Thanks to Comic Book Movie.
Disney sent out a press release announcing The Avengers trailer is the most downloaded trailer in iTunes history:
Marvel Studios announced today that the trailer for next summer's most highly anticipated movie, "Marvel's The Avengers," has been downloaded over 10 million times in its first 24 hours on iTunes Movie Trailers (http://www.apple.com/trailers), shattering the most-viewed trailer record in the site's history.
Speaking of The Avengers, here's the full, previously unreleased teaser trailer from the end of Captain America: The First Avenger thanks to Comic Book Movie.
You've probably already read this, either on this site or somewhere else, but Bleeding Cool and io9 have solid description of The Avengers footage shown at New York Comic-Con that focused on Bruce Banner, played by Mark Ruffalo.
Tonight at midnight, fans will finally get their hands on Batman: Arkham City. Reviews have been great and Nerd Bastards points out this great commercial.
Comic Book Movie points out a tweet by Brian Michael Bendis saying the Powers pilot won't hit the air until June 2012, if all goes well.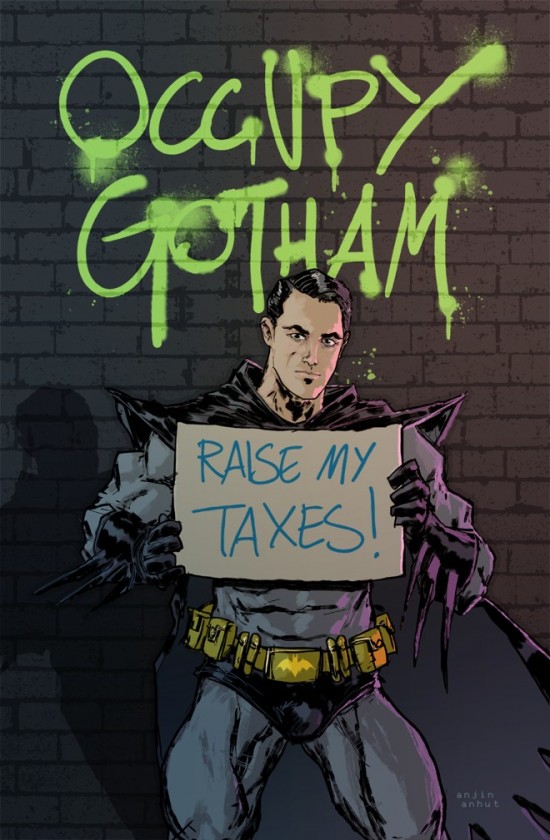 Wired wrote about this topical superhero fan art by Anjin Anhut. Bruce Wayne is certainly a 1 percenter. There's more about the Occupy movement in comics at that link.The Playlist talked to Joe Cornish about Ant-Man and while he said he wasn't sure about when the film might go, he was very coy about their implication the film could include several people wearing the suit:
'No comment.' He then started to say something, 'Well, you know...' before shutting himself off with another 'No comment.'
Does Cillian Murphy reprise his role at Scarecrow in The Dark Knight Rises? He won't say either way in this interview found via CBM. Very interesting.
Due to the amount of graphics and images included in Superhero Bits, we have to split this post over THREE pages. Click the link above to continue to the second page of Superhero Bits.
This is almost two years old, but pretty awesome if you haven't seen it. An insane, $4000 War Machine costume by Anthony Le from Popular Science (via My Confined Space).
Variety (via CBM) did a spotlight on Robert Downey Jr. featuring quotes from Jon Favreau, Joss Whedon and more. Here's one in which Whedon describes shooting a scene in The Avengers:
[The scene] was written very simply and Robert's like, 'Can we do more with this?' So while he was getting made up, I wrote 10 variations. He looked at them and said, 'Well, a little bit of this. A little bit of that.' After we shot it, he said, 'Are you sure you got enough? Because it wasn't cheap to fly me out here.'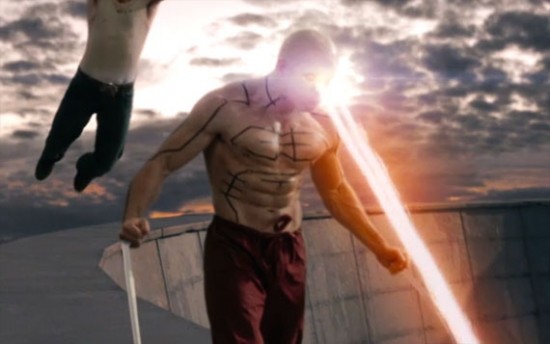 The nine worst dressed superheroes in film history are spotlighted over on Topless Robot. Where did Deadpool from X-Men Origins: Wolverine rank? You'll have to see.
Geoff Johns seems to think a sequel to Green Lantern is still in the cards according to a quote from The Hollywood Reporter:
There is the hope that we will eventually see one....and it will be live-action again – I guarantee.
/Film reader Sean K sent us this Avengers trailer mashup which blends the movie with music from the Earth's Mightiest Heroes TV show.
The writers of Spider-Man: Turn Off the Dark spoke at length at New York Comic Con about the challenges of revamping the show and much more. Thanks to The Hollywood Reporter.
Tom Hiddleston spoke to ABC News about The Avengers (thanks to CBM) and answered all the basic questions as well as avoiding ones about the SkrullsHiddleston also did a great interview with Hitfix talking about a ton of insider Avengers things, including a reveal about Tony Stark's new digs. Possible minor spoilers there.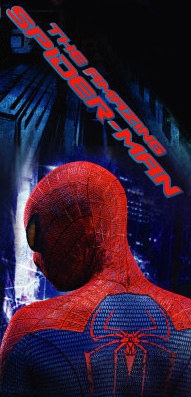 The Amazing Spider-Man invaded New York Comic-Con and Movieweb has posted a few pieces of promo art.The Hollywood Reporter posted the first scene from Green Lantern: The Animated Series.
More Tom Hiddleston. He did yet another revealing interview with Comic Book Resources and discussed a bunch of things including his "relationship" with Erik Selvig, played by Stellan Skarsgard:
This is where I can sense the red dot forming on my forehead. [Laughs] And the Marvel sniper in the corner on the roof over there — he's got his eye on me. Working with Stellan, he's amazing and someone I've long admired as an actor. I really do think he's an exceptional, exceptional actor and is really capable of bringing a level of complexity and truth to roles and performances which in another actor's hands could seem dry or slightly invisible. So I loved working with him — he's a real actor's actor, he's been doing it for so long. He plays the same character in "Avengers," Erik Selvig, who is a scientist. He's employed by S.H.I.E.L.D. after his encounters with S.H.I.E.L.D. in "Thor," to do some work for them. That's all I can say.
Due to the amount of graphics and images included in Superhero Bits, we have to split this post over THREE pages. Click the link above to continue to the third page of Superhero Bits.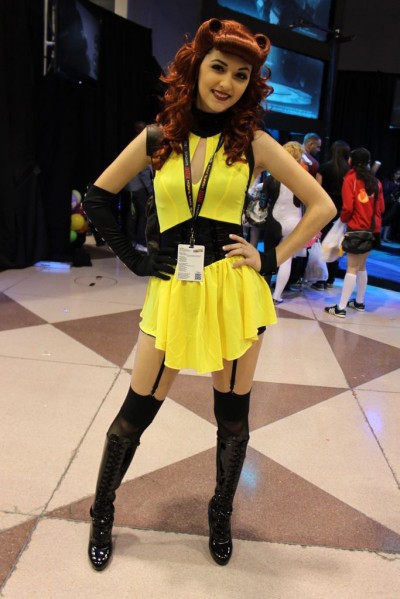 When a comic book convention ends, the galleries of hot cosplayers begin. Here's a fantastic one from Fanboy.com. Some of these girls are likely models, which is fine by me. They've also posted a gallery of cute kids if you're more family-oriented.
One of Captain America's Howling Commandoes, Neal McDonough, spoke to I Am Rogue about a great many things, including Captain America 2:
The talk now is that they are going to flashback to WWII and without going to much into, because I'm not supposed to say too much at all, but whatever they do I guarantee you this ... it's going to be an awesome movie. The villain is going to be crazy, and it will be really terrific. The origin of Cap being in WWII is definitely paramount to the guys over at Marvel.
Chris Evans, Tom Hiddleston, Colbie Smulders, Clark Gregg, Mark Ruffalo and Kevin Feige were all at New York Comic Con and Comic Book Movie posted some EPK interview snippets. That's Ruffalo above.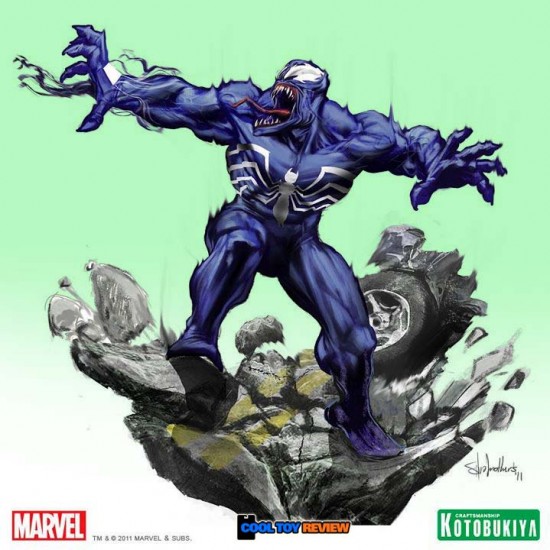 Kotobukiya revealed designs for four new statues including Venom. Thanks to Cool Toy Review.
Get More: Movie Trailers, Movies Blog
Chloe Moretz hints at the possibility of Kick Ass 2 news coming soon. Thanks to MTV.Neveldine and Taylor spoke to the Los Angeles Times about Ghost Rider: Spirit of Vengeance and said the film will be "more like a horror film than an episode of 'Cops."IGN has premiered the trailer for the new DC Animated feature Justice League: Doom.