Red-Band Trailer And Poster For 'I Melt With You', Sundance's Most Divisive Film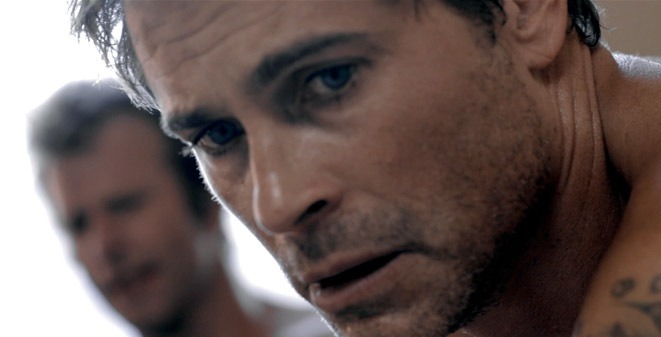 There are films I want to watch because they're universally beloved, others I want to watch out of a morbid curiosity because they're widely reviled, and then, occasionally, there are those that pique my curiosity because they seem to be a little bit of both. Perhaps the most divisive film out of this year's Sundance was Mark Pellington's I Melt With You, a dramatic thriller about four longtime male friends (Rob Lowe, Tom Jane, Jeremy Piven, and Christian McKay) suffering from midlife crises who escape together for debauched gatherings. Which makes it sound like a crappy Tim Allen comedy, but apparently it's all very serious and there's a disturbing twist that turns the film into something deeply fucked up. Watch the red-band trailer and see the poster after the jump.
[via Film School Rejects]
When I say the film was divisive, I mean really — to the extent where it seems like the only consensus to be found among critics is that the film is really divisive. Several reviewers, including our own Germain Lussier, have called it "among the worst" films out of this year's Sundance, whereas others have praised it as "incredible" and "bold." And some, like Pajiba's Dustin Rowles, have managed to find it both "kind of awful" and "kind of great." All of which makes me really want to check out the film for myself. A project that can inspire such disgust in some folks and such love in others seems worth checking out, even if I end up hating it as much as my colleague did.
Synopsis:
Richard (Thomas Jane), Ron (Jeremy Piven), Jonathan (Rob Lowe) and Tim (Christian McKay) are old college buddies who gather for a week each year in Big Sur to celebrate Tim's birthday and catch up with each other's lives. On the surface, they look like typical men in their forties, with careers, families and responsibilities. But as with most people, there is more to them than meets the eye.
As the week progresses, they go down the rabbit hole of excess: mountains of drugs are consumed to a blaring rock 'n' roll soundtrack, parties with much younger women spin out of control. Exhausted and run ragged, they bare their souls and their reunion takes a much darker turn. When a promise from their past is brought to light, none of their lives will ever be the same. From director Mark Pellington, I MELT WITH YOU is a visually dazzling, wild and wooly trip deep into the male psyche, driven by four amazingly committed and profound performances from Thomas Jane, Jeremy Piven, Rob Lowe and Christian McKay.