Screen Gems Wants To Remake TIFF Midnight Madness Hit 'The Raid'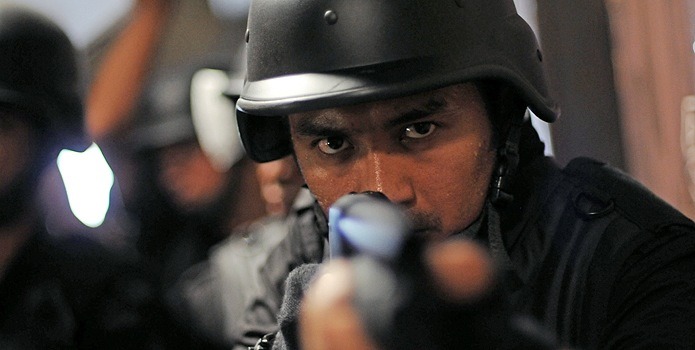 It's a great irony: genre films tend to be the first movies that get picked up for remakes after festival success, but they're also the films that tend to earn a fanbase that is particularly vocal in opposition to remakes.
One of the big successes of the Midnight Madness genre program at TIFF this year was Indonesian film, The Raid, directed by Gareth Evans. The film is about a SWAT team that raids a mob den in a tenement building; the team is trapped and has to fight its way through, or out. Sony Pictures Worldwide Acquisitions bought North American distro rights for the film during Cannes this year, and now the remake rights have gone to Screen Gems.
Pete loved The Raid at TIFF, calling it "the best kick-ass action movie I've seen in years," going on to explain,
This cleverly contained set-up allows from some really inventive set pieces, some really tense moments, highly-choreographed brawls and awesomely violent deaths. The film reminds me of when I first discovered the old-school films of John Woo like Hard Boiled. I've heard others making comparisons to Die Hard and Assault on Precinct 13. The first 15 minutes take place before the Raid and the 85 minutes that follow are almost non-stop action. Imagine a film which takes place in the space which is usually left for the climactic action sequence at the end of a movie.
THR's story on the remake rights suggests that original director Gareth Evans was offered the chance to make the remake, but he'll do a sequel instead, and plans to shoot that in February 2012. How the remake will deal with the unique Indonesian martial arts presented in the movie remains to be seen.
Deep in the heart of Jakarta's slums lies an impenetrable safe house for the world's most dangerous killers and gangsters. Until now, the run-down apartment block has been considered untouchable to even the bravest of police. Cloaked under the cover of pre-dawn darkness and silence, an elite swat team is tasked with raiding the safe house in order to take down the notorious drug lord that runs it. But when a chance encounter with a spotter blows their cover and news of their assault reaches the drug lord, the building's lights are cut and all the exits blocked. Stranded on the sixth floor with no way out, the unit must fight their way through the city's worst to survive their mission. Starring Indonesian martial arts sensation Iko Uwais.