Jason Reitman's 'Labor Day,' With Kate Winslet And Josh Brolin, Will Be Distributed By Paramount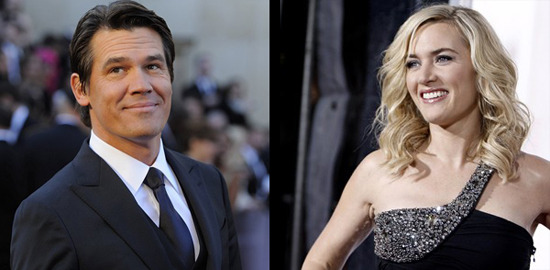 Not only did Labor Day just pass on the calendar, it got picked up by Paramount. Labor Day is the title of Jason Reitman's next movie, which will star Kate Winslet as a single mother who helps an escaped convict, played by Josh Brolin, and falls in love with him over the holiday weekend. Paramount will co-finance and distribute the romance, based on a novel by Joyce Maynard, from a screenplay by Reitman. Shooting will begin in June 2012. Read more after the jump.
Deadline first revealed the details of the deal. Here's the press release:
Paramount Pictures and Indian Paintbrush jointly announced today they will co-produce, and Paramount will distribute, Academy Award®-nominated writer / director Jason Reitman's LABOR DAY starring Academy Award®-winner Kate Winslet and Academy Award® nominee Josh Brolin. Indian Paintbrush will co-finance the project, with the company's Steven Rales and Mark Roybal executive producing.
The movie will be produced by Academy Award®-nominated producers Lianne Halfon and Russell Smith of Mr. Mudd Productions, along with Reitman and Helen Estabrook of Right of Way Films.
Adapted by Reitman and based on the novel by Joyce Maynard, LABOR DAY tells the story of an escaped convict (Brolin) who seeks shelter with a single mom (Winslet) and her young son over a long Labor Day weekend.
The film marks the fourth collaboration for Jason Reitman and Paramount. His latest film "Young Adult," starring Charlize Theron, will hit theaters on December 9, 2011. The studio previously released his Academy-Award® nominated "Up in the Air" in 2010. Earning over $160 million world-wide, the movie earned six Academy-Award® nominations, and five Golden Globe nominations, with Reitman taking home the Golden Globe for Best Adapted Screenplay.
As stated in the press release, Reitman's next film, Young Adult, comes out in December and this certainly bodes well for it. If Paramount wasn't a fan of the Charlize Theron-film, they probably wouldn't continue their relationship with the talented filmmaker who also made Juno, Thank You For Smoking and Up In The Air.
Has anyone read this book? What do you think of it?