Nike's 'Back To The Future' Sneakers Now Available [Updated]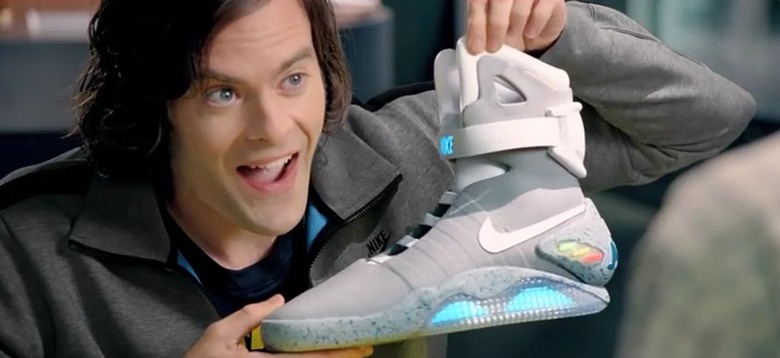 Update from Editor Peter Sciretta: The Back to the Future-inspired Nike MAG sneakers are now available on nikemag.ebay.com. The sneakers are being released in a limited edition and auctioned to benefit The Michael J. Fox Foundation. After the jump you can watch a commercial for the promotion directed by Back to the Future series producer (and second unit director) Frank Marshall and starring Bill Hader and Kevin Durant. I wish I could get my hands on a pair of these sneakers, but the auctions have already ballooned into the thousands within the first few minutes.
Original story follows:
This has been updated three times, and the title changed from "Producer Frank Marshall Teases Big 'Back to the Future' Announcement" to what you see above. The updates are after the break.
Producer Frank Marshall is being a huge tease on Twitter this afternoon with a message that seems to indicate there is some sort of new Back to the Future project about to be announced. As far as we know this is not a remake or a sequel, so you can put any fears along those lines to rest. (I hope.) Could this be a theatrical revival via  a new print? He's likely to drop a bit more info tonight, and then it looks like we'll get the full reveal tomorrow.
Here's the tweet in question:

Keep an eye on his Twitter account, @leDoctor, for more info.
Update 1: TechCrunch says Nike sent out an invite for an event taking place in LA tomorrow that might be the real-life release of shoes inspired by Marty's kicks in Back to the Future II. If that's all this is, it would be a bit disappointing for anyone who isn't a shoe nerd, but certainly better than a remake or sequel announcement.Update 2: Yep, this is an announcement of Nike Air Mag shoes, aka the self-lacing sneakers seen in Back to the Future II. (Looks like we don't have to wait until 2015 for those, as the film prophesied.) Nike patented the self-lacing design last year and now it looks like the shoes are ready for market. Marshall's most recent tweet says "Going to need a lot of hover boards" and points to the video embedded below. Unless you've lived the past twenty-two years coveting these shoes, you can relax now.
Here's the explanation text from that YouTube post: "If I didn't know any better, I'd say that looks like shelves and shelves of 2011 Nike MAG shoes."
Update #3: Nike has a few official images of the shoe available (see one below) and issued a press release detailing the availability. The short verison: there will be 1500 pairs, all auctioned off.
The NIKE MAG is no longer the "greatest shoe never made." The mythical shoe that originally captured the imagination of audiences in Back to the Future II is being released – and they're here to help create a future without Parkinson's disease.
1500 pairs of the 2011 NIKE MAG will be auctioned on eBay with all net proceeds going directly to The Michael J. Fox Foundation. Each day for the duration of the ten-day auction, one hundred and fifty pairs of the 2011 NIKE MAG shoes will be made available via eBay's Fashion Vault. The auction starts September 8, 8:30PM PST, and will end September 18. Thanks to a previous 50 million dollar match given to the Michael J. Fox Foundation, all donations will be matched, effectively doubling the contributions from the auction.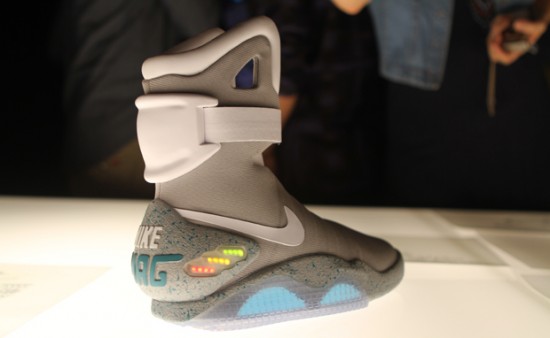 Here's the latest video from Nike: