More Photos Of LucasFilm's Sandcrawler-Like Singapore Office Design [Gallery]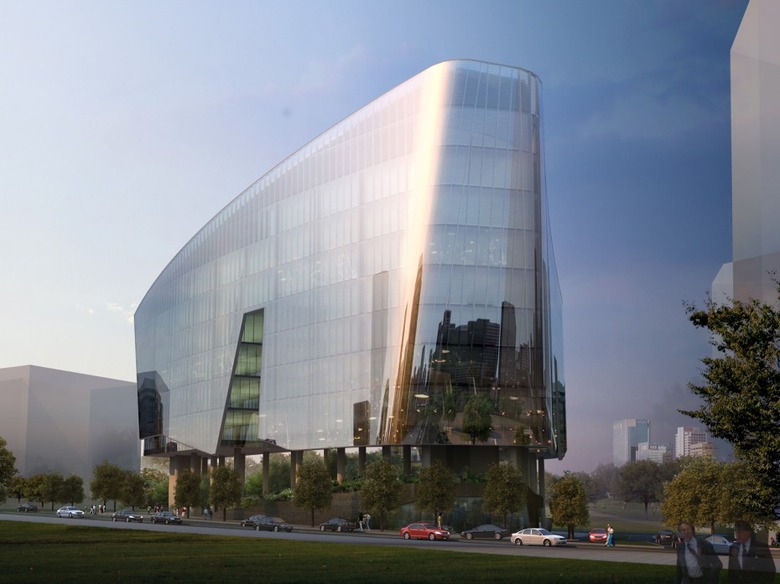 Back in an April edition of Page 2, Pete posted an image of the proposed design for LucasFilm's new Singapore office. The concept drawing was notable for the very distinct resemblance the building would bear to the design of the Sandcrawler seen in Star Wars. From the angle shown in the image, the LucasFilm office looks just like a giant Jawa transport sculpted from glass and steel.
A few more images have surfaced, and you'll see that the resemblance to the transport diminishes somewhat when approaching the building from different angles. But if the project turns out to be quite as smooth and gleaming as seen in these renders, it may be an impressive sight regardless.
While the 'sandcrawler angle' is a neat image, it's the rear of the building, as designed by architectural firm Aedas to feature cascading greenery, that looks quite beautiful.
Announced in October 2010, "the new facility will have eight floors of office space, retail shopping space on the first floor, a public park area, elevated public gardens, a state-of-the-art data center and production capabilities as well as a 100 seat theatre."
Construction is under way now with completion planned for mid to late 2012. When finished, the office will house extensions of several major LucasFilm divisions, primarily including gaming development, visual effects and TV and feature animation. Production of an as-yet secret animation feature will be centered in this office. In April of this year Micheline Chau, President & COO of Lucasfilm, said,
We are really working out some very, very innovative gaming ideas. We also have a feature animation project that is here, that we've talked about, and that project of course is again top secret, but it will be produced in Singapore. So I think that will be a real milestone for the studio.