Tom Tykwer's '3' Trailer – Not Your Everyday Love Affair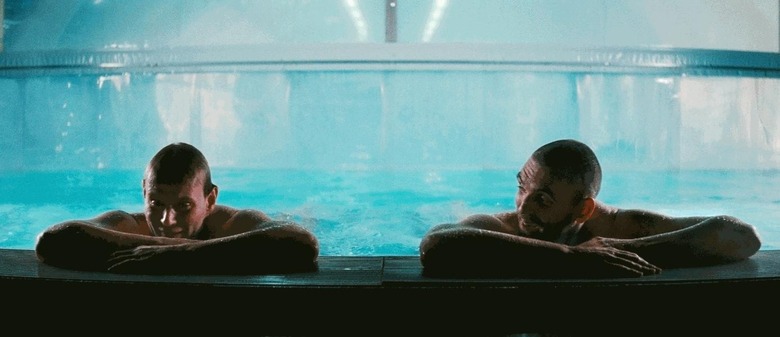 In 3, a man and a woman, married for twenty years, both fall into extramarital affairs. Seems like a fairly straight forward premise to a movie. But this is Tom Tykwer, the man who directed Run Lola Run and is teaming up with the Wachowskis to make Cloud Atlas. There's gotta be a catch. In 3, this husband and wife both end up having an affair with the same man.
An official selection at last year's Venice and Toronto Film Festivals as well as winner of awards at Outfest 2011 and the German Film Awards, Tom Tykwer's 3 opens in New York and Los Angeles on September 16. Check out the trailer and where else you can see it after the jump.
Here's the official US trailer for 3.
And before I throw in some thoughts, a reading of the official plot description is essential:
From the director of Run, Lola, Run and The International comes a sexy romantic drama with a nod to classic Hollywood screwball comedies. Hanna and Simon, a couple in their early forties, live together in Berlin. With their 20th anniversary looming, they both become restless despite being truly and deeply in love. Unbeknownst to one another, they separately become acquainted with Adam, a younger man, and fall in love with him. Working again with his longtime collaborators (DP Frank Griebe, editor Mathilde Bonnefoy, and co-composers Johnny Klimek and Reinhold Heil), "3" is clearly not your typical 1930's romp. This reinvention of those classic films with Tykwer's sleek direction is a playful update, an intellectual study of a modern couple looking for redefinition in a world of absolutes.
Doesn't it seem like that trailer and that official description are for different movies? Movies with the same plot, sure, but the 3 in the trailer, complete with the David Bowie song, looks pretty grim and dramatic. It's a really good trailer. Effective. But I see more "2001 baby" than "Bringing Up Baby." Maybe that comedic subtext is there when you actually see the movie. Here is where Strand Releasing currently has the film booked.
9/16 – New York, NY – Angelika Film Center
Los Angeles, CA – Laemmle Sunset 5
Pasadena, CA – Laemmle Playhouse 7
Irvine, CA – Edwards University Town Center 6
9/23 – San Francisco, CA – Sundance Kabuki 8
9/30 – Palm Desert, CA – Cinemas Palme D'Or
10/14 – Atlanta, GA – UA Tara Cinemas
11/16 – Denver, CO – Denver Film Center // Colfax
2/12 – Suttons Bay, MI – Bay Theatre
Dates TBD: Berkeley, CA // Boca Raton, FL // Boston, MA // Chicago, IL // Dallas, TX // Portland, OR // San Diego, CA // Santa Cruz, CA // Santa Fe, NM // Washington, DC // and more!!!