David Koepp Writing 'The Thin Man' For Johnny Depp And Rob Marshall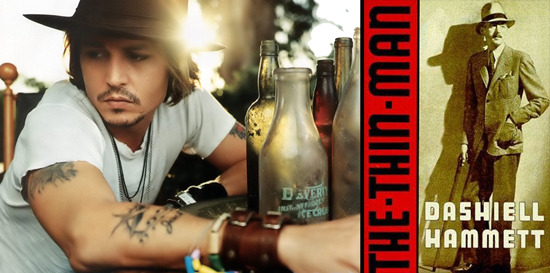 I think any lingering interest I had in Johnny Depp's remake of The Thin Man, to be directed by Pirates of the Caribbean: On Stranger Tides director Rob Marshall, just evaporated. It's the one-two punch of hiring David Koepp to write the script, and the fact that part of the plan is to create a version of The Thin Man that has "a Sherlock Holmes-like stylized treatment." (With Holmes there referring to the Guy Ritchie movie that has become a near-ubiquitous touchstone when talking about a period film with comic action leanings.)
Deadline reports on the hire and the stylistic choice, noting that some time ago Jerry Stahl would write, but that deal didn't go through. So David Koepp will go back to the original novel by Dashiell Hammett — a really fun, breezy read that is just about perfect as a template for a film. (Which explains how six films were spun out of it in the '30s and '40s, and a TV series in the '50s.)
The story has former private detective and current professional drunk Nick Charles (Johnny Depp), and his young socialite wife Nora (as yet uncast), visiting New York City. There Nick is asked to help ferret out the truth about the murder of Julia Wolf, supposedly by Ms. Wolf's former boss and lover, who happens to be an old associate of Nick's.
But there's this, from Deadline:
The original intention is to take elements of the first two films and work them into one film, putting it into a period setting and giving it a Sherlock Holmes-like stylized treatment.
In addition, though far less troubling, is the note that Rob Marshall wants to add a musical number or two. That could work, and even fits with Marshall's one-time description of the film as "such a classy and classic project." And, yes, there was a lot of comedy in the original film series, but the whole smirking Sherlock Holmes approach seems quite wrong here.