Remake Bits: 'The Grudge' Redo; Rumored 'Romancing The Stone' Wishlist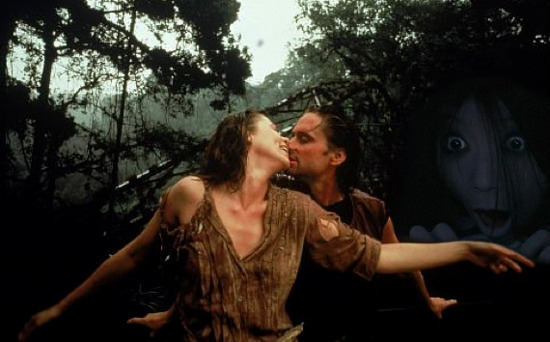 Lately, a day doesn't go by without news or rumor of new remakes. We've already heard about Flatliners today, and here are two more that fall slightly more in the rumor category.
First up, Ghost House Pictures (Sam Raimi's company) and Mandate are reportedly planning a new re-do of The Grudge. That's a horror series that has a slightly complicated history, as it began with two DTV Japanese films, which spawned two theatrical Japanese films and then an American remake, all directed by Takashi Shimizu. Two sequels, one theatrical and one DTV were made to follow the US film. And now there might be a new film that remakes one of the Japanese films or otherwise reboots the series. Mo further detail is available so far. [BD]
After the break, the '80s South American caper film Romancing the Stone, originally directed by Robert Zemeckis, is still on the remake pile, and may be closer to 'go' status.
Romancing the Stone was announced as a likely remake several years ago, and there was even a director attached at one point: Robert Luketic, who directed Katherine Heigl in The Ugly Truth and Killers. He's no longer part of the project, but MovieHole reports that Fox still wants Heigl as a possible choice to play romance novelist Joan Wilder, who finds herself caught up in a search for a massive emerald in Colombia.
The site says that Taylor Kitsch and Gerard Butler are possible actors for the Jack Colton role, originally played by Michael Douglas. Kitsch seems totally wrong for the part, while Butler would actually work quite well, I think. But this is all wishlist/speculation stuff for now.
Can't we just put these together into one film? Romancing the Ghost, perhaps? That could have a horror novelist — no, make it a thin analog of Twilight author Stephenie Myer — taking a South American vacation where she discovers both her true sexuality and a real ghost, the latter hidden in a ceramic doll that she originally thought was just going to be full of ecstasy and Viagra. She hooks up with a vacationing American college student (Taylor Lautner, natch) who pretends to be a paranormal researcher, but is really just down south for sexual tourism. He doesn't want to go anywhere after they find a downed plane full of weed. That 'pot campfire' scene from the original Romancing the Stone stays mostly the same, with a slight dialogue change: "Oh man, Kings of Leon broke up!"