Watch: Han Solo Is The Driver In 'Star Wars' And 'Drive' Mash-Up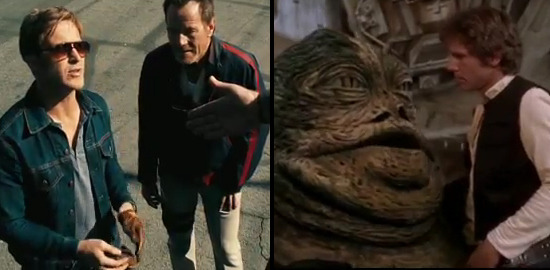 Dammit, I thought I was immune to Star Wars. The prequels, endless spin-off products and constant tinkering with the films has, sadly, bled me dry of interest in anything related to the famous Lucas franchise.
Or so I thought. Then I watched the video below, which cuts footage from many of the Star Wars films against the audio from the trailer for Nicolas Winding Refn's upcoming film Drive. Han Solo stands in for Ryan Gosling's nameless character. And it works pretty well!
I was amused by this mash-up, because it highlights one of the major deficiencies of Star Wars: there are really only two major female characters, and only one for each trilogy. Granted, there are only two female characters to speak of in Drive, too. But seeing Carrie Fisher having to stand in for both Carey Mulligan and Christina Hendricks here underscores the total lack of female presence in Star Wars.
But Albert Brooks as Jabba the Hut? YES.