Casting Bits: Kyle Chandler In 'Argo;' Rob Corddry In 'Warm Bodies;' Michael Nyqvist & Alexander Skarsgård In 'Disconnect'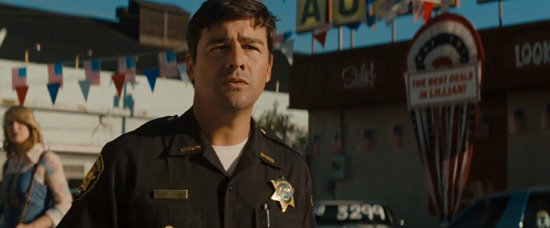 It's not a stretch, I think, to call this the 'fan-favorite actors' edition of casting bits. Kyle Chandler, Alexander Skarsgård and Rob Corddry all fall into that catergory, I'd say. So after the break, you'll find:
Kyle Chandler joins Ben Affleck's Argo,
Rob Corddry looks set for zombification in Warm Bodies,
and Michael Nyqvist & Alexander Skarsgård are among the crew joining the 'modern communication' indie story Disconnect.
This first one is a small note, but I think it's the first we've heard of it: Kyle Chandler from Friday Night Lights and Super 8 has "a small part" in Argo, the film that Ben Affleck is about to direct. That's per USA Today, which has a feature on the actor's career. No more details, sadly, but given that Argo already boasts Affleck, Bryan Cranston, John Goodman, Alan Arkin and Scoot McNairy, things are looking pretty good.
(To refresh: Argo is based on the true story of a CIA crew that attempted to extract diplomat hostigaes from Tehran during the 1979 Iranian hostage crisis. They did this by posing as a crew setting up a big sci-fi film to shoot in Iran. "Stranger than fiction," and all that.)
Next up, Rob Corddry is in final talks to take a role in the zombie film Warm Bodies that Summit will distribute. Nicholas Hoult (A Single Man, X-Men: First Class) and Teresa Palmer (The Sorcerer's Apprentice, I Am Number Four) are already in the film, which is shooting now. Hoult plays the film's lead zombie, and Corddry would be the only other zombie who is like him — that is, existentially aware.
The film is about "an existentially-tormented zombie who falls for the girlfriend of one of his victims and decides to protect her from his brain-eating brethren as he begins to reconnect with his dormant humanity." Jonathan Levine (The Wackness, 50/50) wrote based on Isaac Marion's novel, and is directing. [Variety]
I think the big kicker with the indie drama Disconnect, which "follows a large ensemble of characters who are affected — and in some cases destroyed — by the Internet and other forms of modern communication," is that it marks the dramatic feature directorial debut of Henry Alex Rubin, who is best-known for the documentary Murderball. Even though the concept of Disconnect doesn't grab me, I'll pay attention based on that fact alone. Murderball was a 2005 release and before that Rubin co-directed only the doc Who Is Henry Jaglom?, released in 1997. The guy's working on a real Terrence Malick sort of pace.
And the cast is shaping up nicely. The film now has Alexander Skarsgård, Frank Grillo, Colin Ford and Michael Nyqvist attached to roles, with the rapidly-rising Andrea Riseborough also looking at a part. Per Variety, here are the roles each is attached to:
Skarsgård: a former Marine struggling to make ends meet and is emotionally cut off from his wife, prompting him to seek an affair.
Grillo: a single father and computer safety expert who's overprotective of his 15-year-old son and wants to keep him away from the dangers of the online world.
Ford: Grillo's son, a skater who deals with his own emotional pain by chatting online with a troubled teen under the guise of being an interested teen girl.
Nyqvist: a man who Skarsgård and his wife suspect of stealing their identity.
Riseborough: an ambitious TV reporter who, frustrated by her lightweight stories, pursues a story about a young male model who poses nude online.