New 'Real Steel' Featurette Shows Motion Capture Boxing And More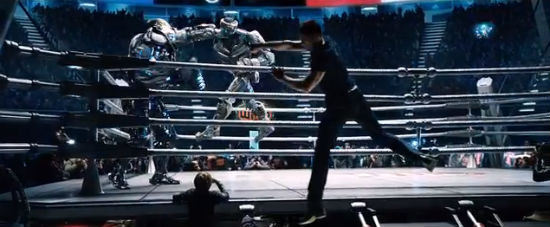 I know I'm in the minority when I go on and on and about how excited I am for Real Steel. Most of you see Shawn Levy's name, some robots fighting in the ring and think "Rock Em, Sock Em Robots" the movie. And come October 7, maybe you'll be right. But I see Transformers meets Rocky. The Terminator meets The Champ. C-3PO vs. R2-D2. I see the potential of a sci-fi action movie coupled with the predictable, yet effective, heart of a underdog sports movie. This latest featurette, called "Main Event," gives us a good sense of that and also shows how Levy captured the motion of the robots fighting using real life boxing legend Sugar Ray Leonard. Check out the clip, featuring stars Hugh Jackman, Evangeline Lilly and Anthony Mackie, after the jump.
Here's the featurette, then feel free to go in the comments and pick on my optimism.
Here's the plot description for the Hugh Jackman film opening October 7:
A gritty, white-knuckle, action ride set in the near-future where the sport of boxing has gone high-tech, "Real Steel" stars Hugh Jackman as Charlie Kenton, a washed-up fighter who lost his chance at a title when 2000-pound, 8-foot-tall steel robots took over the ring. Now nothing but a small-time promoter, Charlie earns just enough money piecing together low-end bots from scrap metal to get from one underground boxing venue to the next. When Charlie hits rock bottom, he reluctantly teams up with his estranged son Max (Dakota Goyo) to build and train a championship contender. As the stakes in the brutal, no-holds-barred arena are raised, Charlie and Max, against all odds, get one last shot at a comeback.
There's a chance it could be good, right? I'm holding onto a prayer here.