TV Bits: 'Terra Nova' Set Video, Comedy Central Orders Series By 'Tosh.0' Creator, 'Will & Grace' Star Develping Gay Family Sitcom, Fox Commits To New Pilot From 'Locke & Key' Scribe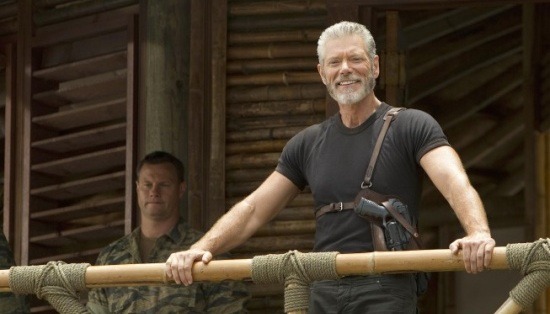 By now, everyone knows that Terra Nova's premiere has been pushed back multiple times thanks in a large part to its effects. You'll have to wait til the pilot airs September 26 on Fox to decide if the delays were ultimately worth it, but you can get a peek at the show's overall look right now. A new video explores the show's massive and really quite beautiful set. You can't accuse the crew of lacking for ambition, and considering that snowballing production costs were one of the problems that plagued the series early on, it's nice to know the money actually went somewhere.
I caught the first half of the two-hour premiere at Comic-Con, and while there's room for improvement on the story side, I wrote that "[i]f nothing else, the show looks absolutely gorgeous." After checking out this clip, I think you'll agree. Watch the video after the jump.
Also after the jump, read about new projects from Daniel Tosh, Sean Hayes and Locke & Key writer Josh Friedman.
[via Vulture]
Comedy Central has ordered 10 episodes of a show titled Brickleberry from Daniel Tosh, creator and star of the network's very popular Tosh.0. The new animated series will center around a group of dysfunctional forest rangers who work to save a national park from closing, and will feature voice work by Tosh. Tosh will also serve as executive producer, along with Stankervision creators Waco O'Guin and Roger Black. The series is set to begin shooting this fall to premiere in early 2012. [Deadline]
Sean Hayes is teaming up with Rescue Me creator Peter Tolan and his writing partner Michael Wimer for an as-yet-untitled family sitcom that will follow two gay men raising their 12-year-old kid. Hayes will star as one-half of the couple; the roles of his partner and child have yet to be cast. The series will likely premiere on NBC next year.
The series will mark a return to steady television work for Hayes, who gained recognition as Jack on the very popular Will & Grace, and will be Tolan's next series after Rescue Me ends its run September 7. (Hayes is also in the Farrelly Brothers' new Three Stooges film; he plays Larry.) Though gay characters have become increasingly visible on television over the last several years, the new show will be somewhat unusual in focusing primarily on a gay couple, rather than featuring gay characters as part of a larger ensemble. [Entertainment Weekly]
Fans may still be sore over Fox's decision not to pick up Locke & Key, but it looks as though writer/executive producer Josh Friedman and the network have moved on. Fox has just committed to producing a pilot for a new hourlong drama by Friedman titled The Asset, which will revolve around about a female agent working in the CIA's New York office. The pilot is part of a three-year deal signed between Friedman and Fox earlier this summer; Friedman previously created and executive produced Terminator: The Sarah Connor Chronicles for the network. [Variety]