Laurence Fishburne Is Perry White In 'Man Of Steel'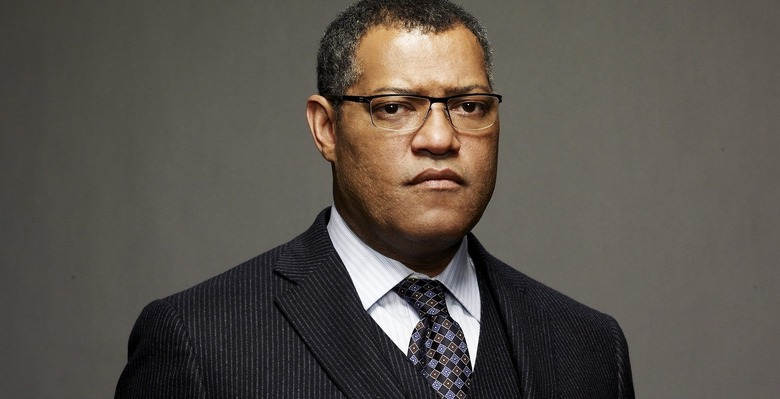 By this point, we know a significant amount of the major casting for Man of Steel, Zack Snyder's reboot of the classic Superman tale: There's Kevin Costner and Diane Lane as the Kents, Russell Crowe and Julia Ormond as Jor-El and Lara, Amy Adams as Lois Lane, and of course, Henry Cavill as Superman himself. However, one big part has remained conspicuously unfilled — until now. Laurence Fishburne has just been cast as Perry White, editor-in-chief of The Daily Planet and boss of Clark Kent. Read on after the jump.
According to the LA Times' Hero Complex, which broke the news, Fishburne will be the first African-American to fill the role in any of the television shows, cartoons, or films produced since the character's creation. Fishburne (as I'm sure you probably know) is an accomplished stage and screen actor probably best known for his role of Morpheus in the Wachowski siblings' Matrix trilogy. More recently, Fishburne starred in the HBO film Thurgood, about the life of Supreme Court Justice Thurgood Marshall, and on the CBS series CSI: Crime Scene Investigation as Dr. Raymond Langston. (He has since left the show.)
I've been pretty happy with the Man of Steel casting so far, and this latest bit is no exception. Fishburne's a reliably strong actor, certainly capable of pulling his weight in a film that includes other exceptional actors. Plus, he's proven time and time again that he's got the whole "tough authority figure" thing down.
I also have to say that I love the choice of casting a non-white actor for the part. Superhero films tend to feature mostly Caucasian actors, partly because most of the pre-existing characters in them have traditionally been portrayed as white (usually starting with the original comics). It's great to see Man of Steel mix it up by giving an iconic role to an African-American actor. After all, Perry White is a character where attitude and personality matter far more than physical appearance — and Fishburne has definitely got the goods.
Harry Lennix, Christopher Meloni, Michael Shannon, and Antje Traue are also set to star in the film, which will open June 14, 2013.