'Battleship' Poster And Website Launch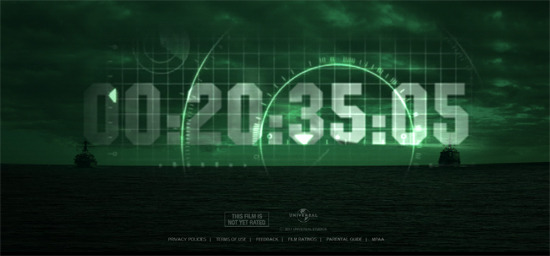 Break out a bottle of champagne and crack it over the bow of the new website for Universal's big collaboration between Hasbro and Peter Berg. Battleship now has a teaser site and a teaser poster. You will be greatly surprised, I'm sure, to find that the poster features a giant ship and an almost imposing logo.
There isn't a lot at BattleshipMovie right now, but if you get weak in the knees over countdown clocks, it's the web page for you. Looks like the header shot for the article. Meanwhile, ComingSoon got a photo of the teaser poster for the movie:
[Poster image removed at the request of Universal. A full reveal of the poster will take place shortly.]
The $200m Battleship stars Taylor Kitsch, Alexander Skarsgård, Brooklyn Decker, Rihanna,and Liam Neeson. Here's the plot recap:
A story of an international Navy fleet engaged in a very dynamic and intense battle against an alien race is known as "The Regents". The aliens come to planet Earth, on a mission to build a power source in the ocean. Upon their visit, they come in contact with a navy fleet. The film is also purported to show both sides of the story, from the aliens' perspective, as well as the humans.
And let me take a moment to offer Universal some advice. We know that Battleship has aliens. So how about actually putting them on the visual marketing materials? Don't go down that Cowboys & Aliens path again with this one, people. Show audiences that Battleship involves some scaly scary space guys and they might show up to see the movie when it opens on May 18 2012.