Casting Bits: Zac Efron And Seth Rogen Team For R-Rated Comedy, Hilary Swank Joins 'Shrapnel', Bryan Cranston Pulls Out Of 'Gangster Squad'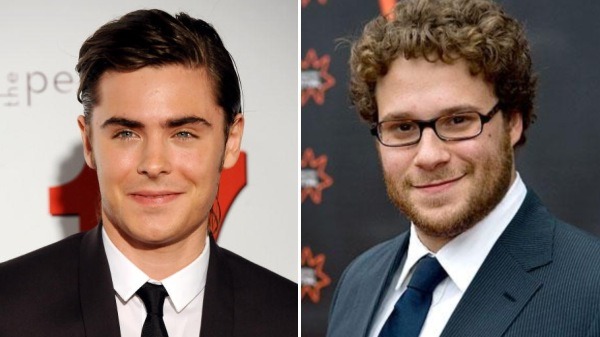 Zac Efron and Seth Rogen are set to team up for an untitled R-rated comedy based on a pitch by Judd Apatow associates Andrew Cohen and Brendan O'Brien. The pairing itself seems unlikely enough, but perhaps even more surprising is which role each actor will play — in this film, it'll be funnyman Rogen who plays the straight man, while the clean-cut Efron tackles the part of a hard-partying frat boy.
The story revolves around Rogen's character, a normal guy with the bad fortune to live next door to Efron's loud, obnoxious frat house. Rogen is also set to produce the film along with his partner Evan Goldberg. [Deadline]
After the jump, Hilary Swank picks up a graphic novel adaptation, while Ruben Fleischer's star-studded Gangster Squad loses a cast member.
Set in the year 2250, the story follows a former Solar Alliance Marine, to be played by Swank, who spearheads an uprising on Venus, the last free colony, against an oppressive solar government in order to fight for the freedom of her people.
Though Shrapnel has yet to find a director or a studio, "several top directors" are said to be eyeing the project. [Variety]
Finally, some unhappy news for Ruben Fleischer's Gangster Squad: Bryan Cranston, who's lately become almost as ubiquitous as Jeremy Renner, has pulled out of the project due to scheduling conflicts. Cranston was in negotiations to play an LAPD officer from Texas in Fleischer's '40s-set crime drama. Fleischer announced the bad news during a press junket for 30 Minutes or Less:
This is a bummer, I don't think he's going to be able to be in the movie. He got offered Argo, and we were hoping he would be able to do Argo and then do our film, but it doesn't look that way. Everybody wants a piece of Bryan now. He's the belle of the ball.
On the one hand, it's great to see Cranston doing so well that he can't keep up with all the excellent parts that he's being offered. On the other hand, man, I would've really loved to see him acting opposite Sean Penn, Ryan Gosling, Josh Brolin, Anthony Mackie, Michael Peña, Giovanni Ribisi, and Holt McCallany. [BlackBook]