New Photos: Richard Armitage As Thorin In 'The Hobbit' And Karl Urban As 'Dredd'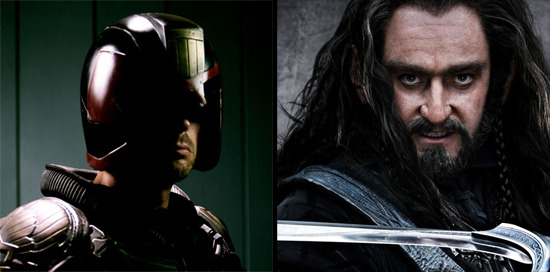 This is what happens when a production spaces the reveal of a baker's dozen major characters over the span of a week: the head honcho doesn't even get his own post. We've seen five photos showing ten of the dwarf company that treks from the Shire to the Misty Mountain in Peter Jackson's The Hobbit: An Unexpected Journey, and now here's the first look at Richard Armitage as the dwarf leader, Thorin Oakenshield. (The others: Dori, Nori & Ori; Oin & Gloin; Fili & Kili, Bofur, Bombur & Bifur; Balin & Dwalin.)
Along with that, we've got the first official image of another authoritative figure: Judge Dredd, played by Karl Urban in the appropriately-titled Dredd.
TheOneRing.net has the image of Thorin Oakenshield in The Hobbit, and the site offers the following bio:
As a young Dwarf prince, Thorin witnessed the destruction and terror wrought when a great fire-breathing Dragon attacked the Dwarf Kingdom of Erebor. After slaughtering many of Thorin's kin, the great serpent, Smaug, entered The Lonely Mountain and took possession of its vast store of gold and jewels. No-one came to the aid of the surviving Dwarves, and thus, a once proud and noble race was forced into exile. Through long years of hardship, Thorin grew to be a strong and fearless fighter and revered leader. In his heart a fierce desire grew; a desire to reclaim his homeland and destroy the beast that had brought such misery upon his people. So when fate offers him an unusual ally, he seizes the chance for revenge.
And then there is Karl Urban as the dour, perpetually-helmeted Judge Dredd, who is an exemplary officer on the peacekeeping force that acts as judge, jury and sometimes executioner in the post-apocalyptic city state of Mega-City One. (See other images here and here.) The character debuted in 1977 and has been one of the most popular and recognizable UK comic characters in the years since. He even cameoed (sort of) on 30 Rock last season. Here's the official synopsis for Dredd, written by Alex Garland and directed by Pete Travis,  which will hopefully escape at least some of the traps that ensnared the 1995 Sylvester Stallone film based on the character:
DREDD takes us to the wild streets of Mega City One, the lone oasis of quasi-civilization on Cursed Earth. Judge Dredd (Karl Urban) is the most feared of elite Street Judges, with the power to enforce the law, sentence offenders and execute them on the spot – if necessary. The endlessly inventive mind of writer Alex Garland and the frenetic vision of director Peter Travis bring DREDD to life as a futuristic neo-noir action film that returns the celebrated character to the dark, visceral incarnation from John Wagner and Carlos Ezquerra's revered comic strip.
The Hobbit: An Unexpected Journey opens on December 14, 2012. Dredd is planned for release on December 1 in the UK and will likely hit the US in 2012.