First Look: 'The Knights Of Badassdom'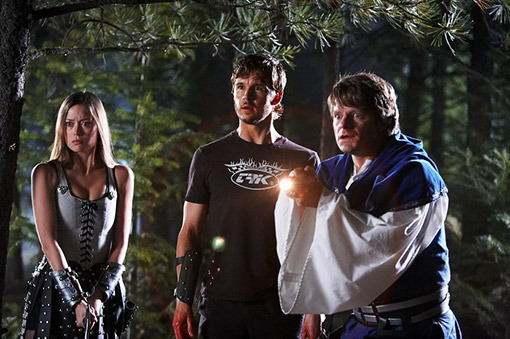 The Amazing Spider-Man isn't the only big Hall H movie that the latest issue of Entertainment Weekly blows the door off. They've also got your first look at The Knights of Badassdom, which will also be wooing audiences in the biggest room at San Diego Comic-Con next week. From the looks of these first images, it shouldn't have much of a problem. The film features the stars of Comic-Con favorites like Firefly (Summer Glau), True Blood (Ryan Kwanten), Community (Danny Pudi) and Game of Thrones (Peter Dinklage) and tells the story of a group of live-action role players whose fantasy becomes reality. Sounds like the right blend of ingredients for a Comic-Con hit.
You'll be hearing (much) more about the film in the coming week, both with the Hall H panel and from director Joe Lynch (Wrong Turn 2), but for now, check out these first images.
Thanks to Entertainment Weekly for the images.
And here's how they describe the movie:
[Steve] Zahn and Dinklage play Eric and Hung, two friends obsessed with Live-Action Role Play (a.k.a. LARPing) who decide their depressed roommate, Joe (Kwanten) needs to join in their fake-armor and foam-sword reindeer games.... So Joe dives deep into the world of geek, only to have Eric inadvertently perform a real spell from a creepy old book he bought off eBay. Turns out the book was penned by demons, and a succubus is now roaming the campsite where hundreds of people dressed as knights, elves, and warlocks are playing make-believe.
I hinted on Twitter that I got an early look at some footage and spoke to Lynch, and you can read about that later this week. From what I saw, The Knights of Badassdom looks like every bit as big, boisterous and bloody as you'd hope from a story and cast like that. Time will tell if the full film delivers the goods but the first glimpses have been spot on.