'Inglourious Basterds' Sniper Daniel Brühl In Taks For Ron Howard's 'Rush'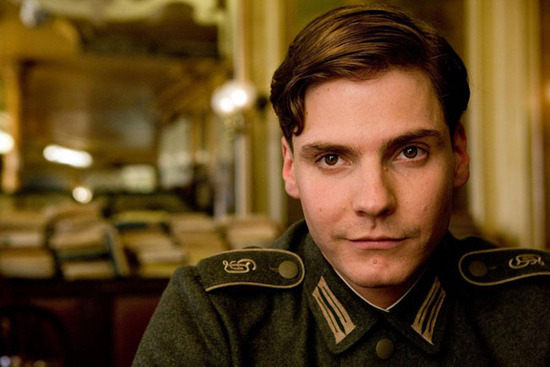 Quentin Tarantino's Inglourious Basterds featured three breakout performances by actors who were previously little-known to US audiences. Christoph Waltz and Michael Fassbender have gone on to very high-profile studio work, but Daniel Brühl, who played the Nazi sniper hero Frederick Zoller, has taken his time choosing Hollywood roles. (He has continued to work, doing so mostly in Europe.)
Now he is in talks for a film by a major Hollywood player — he's looking at the role of Austrian Formula One champ Niki Lauda for Ron Howard's racing movie Rush.
Screen Daily says that talks are going on now to bring the actor into the film, which is hopefully going to shoot late this year in Germany and the UK. This is the stopgap project Ron Howard chose as The Dark Tower is delayed. It may end up being more than a stopgap, actually, as we don't know what is likely to happen with The Dark Tower at this point.Peter Morgan (The Queen, Frost/Nixon) wrote the script, which follows the intense rivalry between racers Niki Lauda and James Hunt, who will be played by Chris Hemsworth. For me, that collection of talent makes this Ron Howard's most exciting project in quite a few years.
And it's a hell of a story, that involves the 1976 championship dreams of two best friends: the party-happy Hunt ("the epitome of unruly, playboy drivers [who] was celebrated for his English eccentricity") and 1975 world champion driver Niki Lauda, who suffered a near-fatal crash in '76 when he crashed his Ferrari during the early stages of the German Grand Prix. He lost an ear and spent time in a coma, but six weeks later was back on the road trying to retain the champtionship title. Eventually Hunt beat him, but it was a hard-won victory spaced over several races.
The script is called "a typically compelling character study" by Screen, and that could be a great thing. These two actors have the chops to make the characters work, but also the physical ability to really sell the racing scenes — Rush could turn out to be that rare winning midpoint between action and drama.