Paz De La Huerta Stars In 'Nurse 3D' Complete With NSFW Image
Apparently, 3D and nudity go together like popcorn and soda. Just ask the team behind Sex and Zen 3D, a massive blockbuster from Hong Kong that uses sex to sell the third dimension. And while that film is supposed to hit North American shores at some point, Lionsgate is also embracing the concept...and dripping blood all over its naked body.
They've cast Paz De La Huerta, the regularly naked star of Enter the Void and Boardwalk Empire, in Nurse 3D, a pseudo-sensual horror film directed by Douglas Aarniokoski about an average nurse who spends her nights "targeting and punishing" evil men. So think Dexter with more breasts. The film stars shooting in September for a 2012 release but Lionsgate has released a concept photo that they say will "serve as a style guide and character inspiration for all stages of filmmaking."
The full photo, cropped above, is NSFW so be careful before clicking this link.
The below photo originated in V Magazine and was taken by Lionsgate Chief Marketing Officer Tim Palen. Click on it for a bigger version.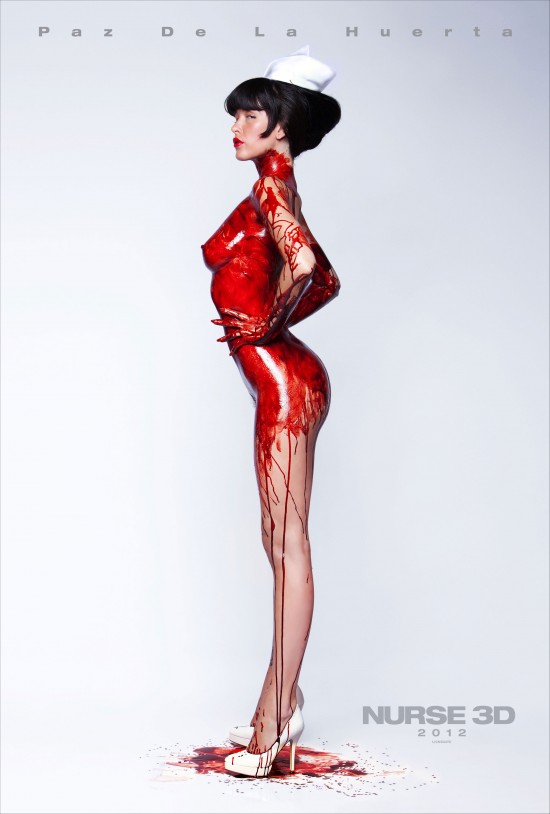 The director, Aarniokoski, has an impressive resume as a First Assistant Director: Fear and Loathing in Las Vegas with Terry Gilliam, Spy Kids with Robert Rodriguez and then also films like Takers and Resident Evil Extinction. He'll obviously be working with that image clearly in mind, for several reasons, but mostly because his boss wants it to influence the whole movie. Here's some more info on how Lionsgate hopes the photo relates to the final product:
The studio today debuted gripping pre-production concept art of Paz De La Huerta in character as Abby. Shot by Lionsgate's Chief Marketing Officer Tim Palen, it will serve as a style guide and character inspiration for all stages of filmmaking. The story was originally inspired by previous photography of horror tastemaker Palen, who explored the intersection of caretaking and punishment in an ongoing series of fine art photographs of beautiful, fantastical nurses used by the studio.
"In his original nurse photos and the fan conversation that ensued, Tim had clearly scratched the surface of a really great concept – the idea of a film noir depiction of a beautiful nurse who uses her sexuality to very severe ends," explained Mike Paseornek, Lionsgate's President of Production and the executive in charge of the film. "That concept was the perfect germ for this thrilling story, which will be extremely visceral in 3D."
So what do you think? Will sex and 3D mean box office gold or will the story matter more than the skin?