'Contagion' Trailer: Steven Soderbergh's Version Of Realistic Horror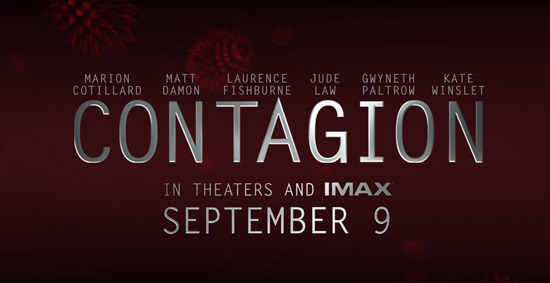 Well, that didn't take long. Earlier today we showed you the first footage from Steven Soderbergh's viral outbreak thriller Contagion, which opens on September 9. Now the full trailer is online, and it seems designed to scare the living shit out of anyone who has even the vaguest touch of germ paranoia. See it after the break. (And, yes, that image above, which is official, does say the film is opening in IMAX. That may have been data that was floating around, but it is news to me. Great news.)
I think this looks great. The photography is both eerie and powerful, and there may just be some really intense performances in here from Jude Law, Kate Winslet, Matt Damon and Gwyneth Paltrow. Additionally, bravo to all involved here for having the stones to kill a major character in the trailer. Her death hasn't ever really been a secret — those who have followed the creation of the film closely probably knew. But still: it's kind of a big deal. Putting it in the trailer suggests that the movie isn't going to play safe with any character just because they are played by a big star.
Apple has the HD trailer.
Contagion" follows the rapid progress of a lethal airborne virus that kills within days. As the fast-moving epidemic grows, the worldwide medical community races to find a cure and control the panic that spreads faster than the virus itself. At the same time, ordinary people struggle to survive in a society coming apart.