Actor Wish List: Josh Brolin Wanted For 'Oldboy,' Chris Pine Wanted For 'Robocop'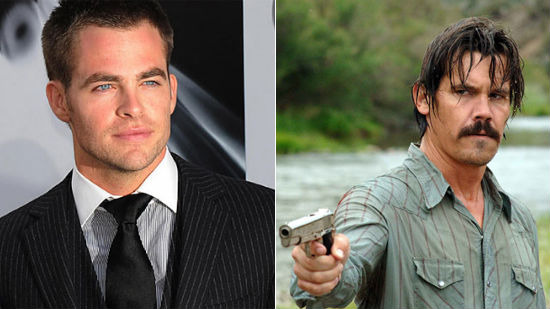 Neither actor has been cast but Twitchfilm is reporting that the top choices for two major upcoming remakes are as follows: Josh Brolin as the lead in Spike Lee's Oldboy remake and Chris Pine for the lead in Jose Padilha's Robocop remake. Let's discuss both of them after the break.
News on this Oldboy remake has been coming quick over the last few days. First we heard that Spike Lee was interested and then that he is definitely directing. Now Twitchfilm, which scooped the story of Lee's hire, says Mandate Pictures wants Josh Brolin for the lead role made so famous by Choi Min-Sik. Let's be clear. That's what the studio wants. We don't know if Spike Lee feels the same way.
Either way, there's no denying Brolin would be a phenomenal choice. He fits the bill physically and emotionally as he's played a wide range of characters over his career. The question becomes would he want to go to the deep, dark place that this role would take him? And would he be a big enough name to open a movie with very little name recognition outside of the film community? (Jonah Hex, anyone?) And will he even be available? Also, if Brolin passes, who do you think would be next on the list?
One movie that does have a lot of name recognition no matter who played the role is Robocop and Twitchfilm says that MGM wants to go younger with the role. That means Captain Kirk himself, Chris Pine. As with Oldboy, this is a studio wishlist and there's no word if Padilha agrees with the casting. Whether he does or not, this news certainly gives us a hint as to what MGM wants to do with Robocop: franchise. A younger actor would allow for more sequels assuming the first film was a success. But if you're Chris Pine and you're already in one major franchise (and most likely two with the Jack Ryan film still in the works) do you really want to be contracted to have your face behind a mask for several Robocop movies?
What are your thought on both of these potential bits of casting?