'Jack And Jill' Trailer – Adam Sandler's Dual Role Comedy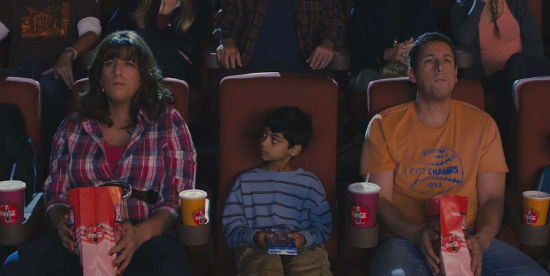 Adam Sandler has finally made a movie that his character in Funny People would have starred in. No he's not a talking baby or mermaid, instead he's himself and his twin sister. Yes, sister. Jack and Jill features Sandler as family man Jack whose obnoxious sister (also Sandler) visits him for the holidays. Katie Holmes, Shaquille O'Neal, Nick Swardson and even Al Pacino (playing himself) are along for the ride. Directed by Dennis Dugan (Grown Ups, Happy Gilmore) Jack and Jill hits theaters November 11. Check out the trailer after the jump.
Thanks to Yahoo Movies for the trailer.
Here's the official plot description:
Jack Sadelstein, a successful advertising executive in Los Angeles with a beautiful wife and kids, who dreads one event each year: the Thanksgiving visit of his identical twin sister Jill. Jill's neediness and passive-aggressiveness is maddening to Jack, turning his normally tranquil life upside down.
Sandler comedies are almost a guarantee to make money and this one, sporting a prime holiday release date, seems like it'll follow suit. But just when I was ready to dismiss this movie as another stupid, gimmicky Sandler comedy, the trailer reveals the role Al Pacino is playing and, well, it just seems funny. Will it save the movie or will Pacino just embarrass himself? We won't find out till November. Either way, it's a nice touch to appease an older audience while the kids come in just to see the physical and crude comedy that's made Sandler one of the most bankable stars on the planet.
Is this a movie that's on your radar? Did the trailer change your mind?