'Final Destination 5' Trailer #2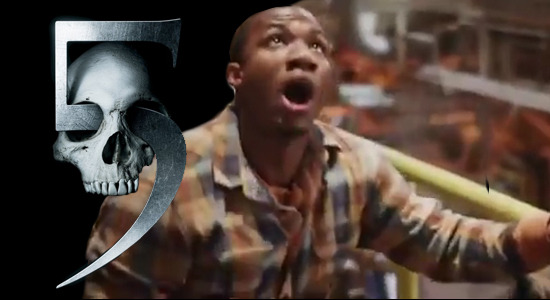 The other day in a post about the trailer for The Myth of the American Sleepover I mused about how memories of first love are one of the batteries that powers cinema. Well, one of the other batteries is the thrill of seeing another human bite it. And so enter the Final Destination series, which since the first sequel has been defying its own name while drawing in audiences happy to spend 90 minutes watching a cast of young hopefuls being offed in creative ways.
The fifth film in the series opens in just over a month, and you can see the second full trailer for Final Destination 5 after the break.
As you might know from seeing other trailers, this time the big opening setpiece involves the collapse of a suspension bridge. As is often the case with the Final Destination films, the question is: can that opener top the highway sequence from the second film? This one looks like it has a better chance than what we've seen in the last couple installments.
The cast of possible lasik/factory/acupuncture/etc casualties this time includes Emma Bell, Nicholas D'Agosto, Miles Fisher, Arlen Escarpeta, Jacqueline MacInnes-Wood, P.J. Byrne, Ellen Wroe, David Koechner and Courtney B. Vance. Tony Todd also returns to the series, but he isn't likely to meet his end.
Be aware that watching this trailer will clue you in to a lot of the possible 'surprises' in the film, or will make you feel as if you've been clued in, at least. But at least this installment seems to offer something new, in the form of another way that the bridge survivors might cheat death. It's the little things.
In this fifth installment, Death is just as omnipresent as ever, and is unleashed after one man's premonition saves a group of coworkers from a terrifying suspension bridge collapse. But this group of unsuspecting souls was never supposed to survive, and, in a terrifying race against time, the ill-fated group frantically tries to discover a way to escape Death's sinister agenda. The new victims of Death's plan are part of a cast led by Emma Bell (Frozen, TV's "The Walking Dead") and Nick D'Agosto (Fired Up!, TV's "Heroes"). The film is being shot on location in Vancouver, Canada. The second of the "Final Destination" films to be shot in 3-D, Final Destination 5 is being directed by Steve Quale, marking his major feature film directorial debut.
Final Destination 5 opens in 3D on August 12.