First Official Look: Gina Carano In Steven Soderbergh's 'Haywire'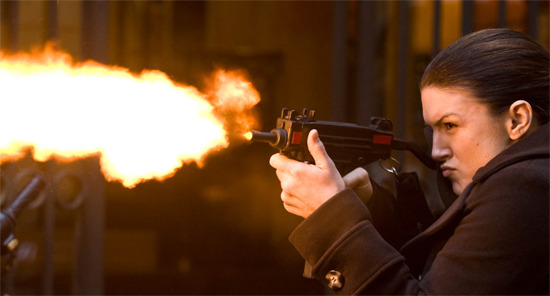 Would it be so bad if the first official image from all of our most anticipated films for the next year involved a prominent cast member firing a rifle with some massive muzzle flash, would it? We saw an image like this featuring Bruce Willis from Looper, and now here's the first official still from Steven Soderbergh's Haywire.
It's a little weird that an action film starring MMA fighter Gina Carano would come out of the gate with an image of her brandishing a weapon other than her fists and feet, but what the hell, I'll take it. She plays a character out to get revenge on the people who double-crossed her, and what better way to do that than blowing them to hell? See the full image after the break.
This is the second of the two films that Steven Soderbergh has coming out in the next few months. Contagion is first, hitting in September, and then Haywire will drop in January of next year.
We've heard a few rumblings that make me worry a bit about how Haywire will play, and we'll probably get a good idea about the movie when Steven Soderbergh brings it to Comic Con next month. In the meantime, take this image as an indicator of things to come. (Too bad we had to take down those rad poster designs, because they gave few more good looks at moments from the film.)
Remember, too, that this one has one of the massive ensemble casts that we love to see. In this case: Channing Tatum, Ewan McGregor, Michael Fassbender, Antonio Banderas, Bill Paxton, Michael Douglas and Michael Angarano. The script is by Lem Dobbs, who wrote The Limey (or wrote a version of it, as the famously argumentative DVD commentary demonstrates) and David Holmes, who did such great music for the Oceans movies, is scoring.
Click this one to enlarge: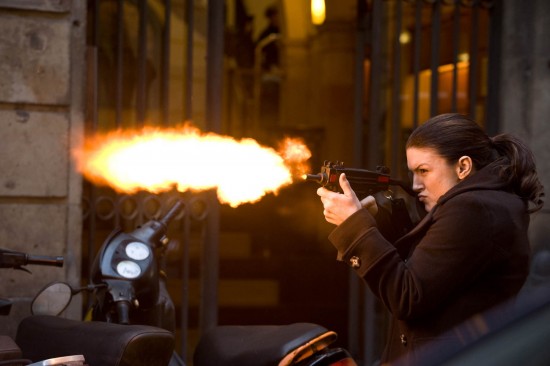 The official synopsis:
In Haywire, an electrifying tale of espionage and betrayal, a female covert ops specialist (Carano), who works in the deadly world of international operatives, strikes back after discovering she's been double-crossed by someone close to her in the agency.
[Collider]