Francis Ford Coppola's Latest Retitled 'Twixt,' Footage Debuting At Comic Con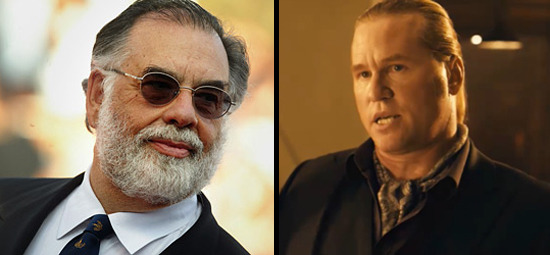 Twenty years ago Francis Ford Coppola arrived at Comic Con with scenes from Bram Stoker's Dracula in hand. The Con was then nothing like the massive entertainment industry showcase it is now, so it will be fun to see how the director takes to the massive crowds when he brings his new film, Twixt, to Hall H.
A press release went out today announcing that the film, formerly known as Twixt Now and Sunrise, will be previewed in Hall H on Saturday, July 23. We don't know which of the core cast (Val Kilmer, Bruce Dern, Elle Fanning, and Ben Chaplin) will be there, nor what sort of footage will be shown. The movie was shot partially in 3D, so there is a chance for a presentation of some of that footage.
We've also known that electronic musician Dan Deacon will do the score for the film, and that there is a non-traditional, 'interactive' aspect to the project with respect to music. Here's what the press release offers on that front — this is part of what now has me super-jazzed for the panel.
Coppola has a unique new approach to the presentation of the film that will incorporate live music by acclaimed independent performance artist Dan Deacon.  Deacon will attend Comic-Con with Coppola to help demonstrate the interactive experience of the film.
Then there's the description of the film from Mr. Coppola himself, which is mostly what we've heard before, but also now carries feelers that stretch back to his very early movies like Dementia 13 and The Terror. He calls Twixt, "one part Gothic romance, one part personal film, and one part the kind of horror film that began my career."
Along with this announcement, we get an official synopsis, which will probably give rise to many more questions than it answers:
A  writer with a declining career arrives in a small town as part of his book tour and gets caught up in a murder mystery involving a young girl.  That night in a dream, he is approached by a mysterious young ghost named V.  He's unsure of her connection to the murder in the town, but is grateful for the story being handed to him.  Ultimately he is led to the truth of the story, surprised to find that the ending has more to do with his own life than he could ever have anticipated.