French 'Mission: Impossible - Ghost Protocol' Trailer Leaks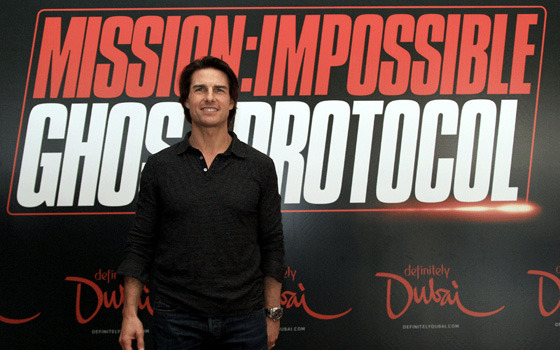 We're looking forward to seeing footage from the fourth Mission: Impossible movie, mostly because it marks the live-action debut of animation director Brad Bird (The Iron Giant, The Incredibles, Ratatouille). The trailer will arrive with prints of Transformers: Dark of the Moon, and will also premiere online in HD tomorrow at 7:30pm EST.
But right now you can see the trailer via a French bootleg. It's a cam leak, and dubbed in French, so this isn't the ideal way to see the first footage. The quality isn't terribly good. I'd rather see one of those terrible Entertainment Tonight trailer premeires than this, which might give you an idea of the quality. But the trailer itself looks great — once it really kicks into gear you might get the sense that this series is really back on track.  Check out a first look at Mission: Impossible – Ghost Protocol after the break.
I'm going to hold off on more commentary until I can see this one for real. Brad Bird directs Tom Cruise and  Jeremy Renner, with Paula Patton, Josh Holloway, Ving Rhames, Simon Pegg, Michael Nyqvist, Anil Kapoor, Lea Seydoux and Vladimir Mashkov. Mission: Impossible – Ghost Protocol opens December 16, 2011.
[Whiteblog, via The Playlist]