Benedict Cumberbatch Voicing Smaug In 'The Hobbit'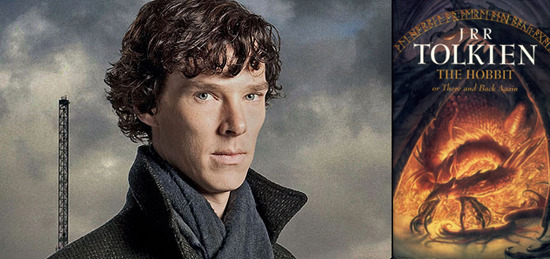 Happiness! When Martin Freeman let slip that his great Sherlock co-star Benedict Cumberbatch had been cast in The Hobbit, I secretly hoped that his role would be voicing the dragon, Smaug, even though I suspected he would in fact play Bard the Bowman.
Not long after Mr. Freeman's revelation, Ian McKellen posted a cryptic teaser about the actor's role, which certainly seemed to point to him playing Smaug. We didn't run with that at the time because it was still very speculative. But now, just an hour after the confirmation that Luke Evans will play Bard the Bowman — aka the character whose life intersects with Smaug's in a very dramatic way — we've got confirmation that Mr. Cumberbatch will indeed voice the great dragon that lies coiled on a mound of Dwarven gold in The Hobbit.
Here's what Ian McKellen had to say in May:
The cat is out of the bag.  The actor is named.  The latest recruit to the Jackson troops is the superb Benedict Cumberbatch, Sherlock Holmes to Bilbo's Watson.  Martin Freeman let it slip when he picked up his BAFTA. Martin told me he was "chuffed" about the prize.  So was the entire crew back here in Wellington; and about Benedict.  Now, what can he be playing in The Hobbit? Philippa Boyens showed me a snippet of his screen-test, played in close-up into the camera.  It was electrifying, vocally and facially.  Yes, what can he be playing?
As the first line of this article makes clear, I'm very happy about this. I think he'll be magnificent in the role, and am looking forward to see how his facial and physical expressions will be mo-capped for the animated version of the dragon. The interesting bit is that Deadline's report makes it sound as if this might not have been the intent from the beginning, as it notes that he is also voicing another character, the Necromancer.
Could that have been a trial role? Probably not, because while Necromancer seems like a small part, that character actually has quite a lineage in Middle-Earth, and the fact that a major actor was voicing him could suggest something about what we might see in the second Hobbit film. Here's more info on who the Necromancer is, which could be considered spoilerish for those who aren't devout Tolkien fans. [Deadline]