'Bellflower' Trailer: A Real Look At The Sundance Buzz Film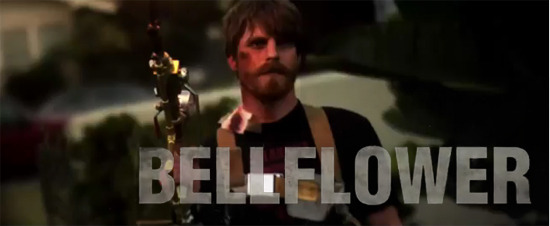 The indie Bellflower powered through Sundance and SXSW, powered by the muscular engine of the mascot car Medusa and trailing waves of reviews praising the film's forward-thinking blend of romance, hallucination and apocalypse. Young director Evan Glodell transformed a shelved script he wrote as a heartbroken 23-year old into something that generated extreme reactions at festival screenings, and the homemade tech — a unique camera rig, flamethrowers, and the like — make for great press.
But what the hell is Bellflower? The first teaser showcased only Medusa, albeit with footage triple-dipped in atmosphere and solidly confident style. Now a new full-length trailer is the first real look non-festival audiences can get at the blend of ideas that is Bellflower.
I'll admit that on first viewing I was struck by some of the less-polished aspects of the film — the acting and some bits of the script betray a certain lack of experience. But I watched the trailer a couple more times and was really taken with the strange tone and foreboding use of image and sound. Festival buzz got my attention, but this trailer has done a lot more than any Sundance chatter to make me want to catch the film.
The trailer is on IMDB. Here's the synopsis:
Best friends Woodrow and Aiden spend all of their free time building Mad Max-inspired flamethrowers and muscle cars in preparation for a global apocalypse.  But when Woodrow meets a charismatic young woman and falls hard in love, he and Aiden quickly integrate into a new group of friends, setting off on a journey of love and hate, betrayal, infidelity and extreme violence more devastating and fiery than any of their apocalyptic fantasies.
As a bonus, here's a quick video explaining the homebuilt camera rig used to shoot Bellflower: