Al Pacino And Barry Levinson Teaming For 'The Humbling' Before 'Gotti'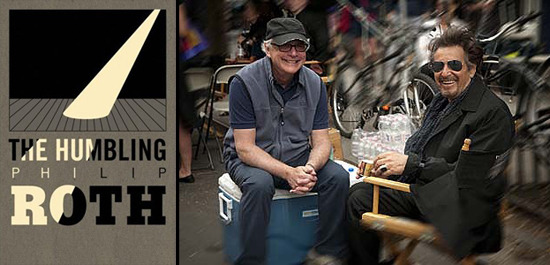 Barry Levinson is going to direct Al Pacino in Gotti: Three Generations, but before that picture shoots they'll also do another film. The Humbling is an adaptation of the novel of the same name by Philip Roth from Millennium/Nu Image. This will make three films in a row for the Levinson/Pacino team, beginning with the acclaimed portrait of the late Dr. Jack Kevorkian, You Don't Know Jack.
In addition, Barry Levinson has quite a lot to say about the John Gotti movie that he inherited when Nick Cassavetes vacated the director's chair. More on that after the break.
First up, here's the plot of The Humbling:
At 65, Simon Axler, a formerly celebrated stage actor, is undergoing a crisis: he can no longer act, his wife leaves him and, suicidal, he checks himself into a psych ward. Then he retires to his upstate New York farm to wait for... something, which arrives in the form of Pegeen, daughter of some old theater friends who is now a lithe, full-breasted woman of forty, though with something of a child still in her smile. A Rothian affair ensues, despite (or perhaps because of) their age difference and Pegeen's lesbian past. Axler overlooks all the signs that should warn him not to trust too much in the affair and instead tries out more and more sexual turns with Pegeen (spanking, strap-ons, role play), until one night they pick up a drunk local for a three-way that might prove to be soul-crushing.
I'm not a Roth fan, but haven't read this particular novel. The success or failure of the material will obviously have everything to do with casting and the manner in which Barry Levinson handles it. With a subtle touch, this could be something good, but it could also become The Red Shoe Diaries. Wait and see.
Al Pacino will play Simon Axler; the script is by Barry Levinson, Buck Henry and Michal Zebede. Casting will happen very soon for the woman with whom he begins that sexual relationship, and for other major characters.
And then there's Gotti: Three Generations. Deadline confirms that Barry Levinson and James Toback are doing a page-on rewrite on the script, which was originally by Leo Rossi with the supervision and consultation of John Gotti, Jr. Mr. Levinson does say that the younger Gotti's participation is still a big deal:
I wouldn't have done it had I not talked with John Gotti Jr. In order to rewrite it, I want the specificity he brings into the personal life of the Gotti family. To have those insights from someone who was that high up, gives us an opportunity to develop a piece of material that feels like something new. There's plenty about Gotti we know from the public record, but he can provide the shadings and the mechanics we don't know. He's not telling me the story of John Gotti Sr, but rather the story of the last famous don and the son who follows in his footsteps, comes into power and ultimately decides, I don't want this. How do you get out of that life? It was the end of the mafia as we know it and here was this guy, trying to breaking the cycle, saying 'I want to have a life that's not this life.'
But he says that creating a sympathetic portrait is not his intent, citing the early scenes in Bugsy as an example of how he'd treat a gangster character as a person but not a hero. Will the cast, which includes John Travolta as John Gotti Sr., stick through the process of rewriting? We don't know. Mr. Levinson does say that he likes John Travolta as the elder Gotti, but by the time the film shoots, things could change.