First Official Image: Sacha Baron Cohen In 'The Dictator'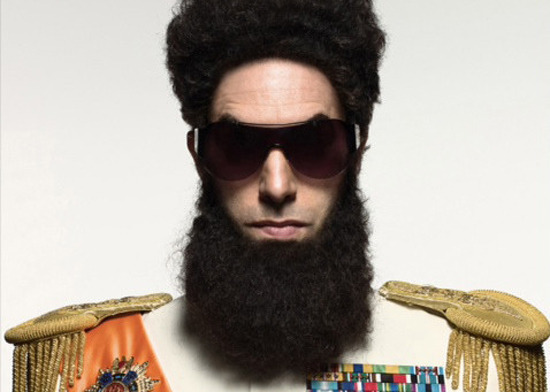 Earlier this week we saw an on-set snap of Sacha Baron Cohen in costume as one of the characters in The Dictator. Now we've got the first official look at Sacha Baron Cohen in costume as the other main character in The Dictator. The full snap is after the break.
So: the film is (or appears to be) a strange blend of influence from Charlie Chaplin's film The Great Dictator, and the novel Zabibah and The King, by Saddam Hussein. (Or which was, more likely, ghostwritten by others and then saw Saddam's name slapped on it.) Sacha Baron Cohen plays two characters, as explained below:
[Sacha] Baron Cohen plays a ruthless dictator who heads to the U.S. for a meeting at the United Nations and finds that his number two has replaced him with an unsuspecting sheepherder lookalike. As the dictator wanders the city, he meets the owner of an organic food store... She turns around his dictatorial thinking, and there's a little romance in it as well.
Borat and Bruno director Larry Charles is behind the camera once more, and the cast also includes Ben Kingsley, Jason Mantzoukas, and Anna Faris. The script is by Alec Berg, Jeff Schaffer and David Mandel, and we don't know to what degree this film will be improvised. Borat and Bruno relied heavily on rolling with whatever happened in the moment, and with Sacha Baron Cohen and Larry Charles working together once more, it isn't a stretch to expect some similar working method for this film.
We'll find out how things are balanced (or not) when The Dictator opens on May 11, 2012.