LOL: "Born This Way" X-Men Parody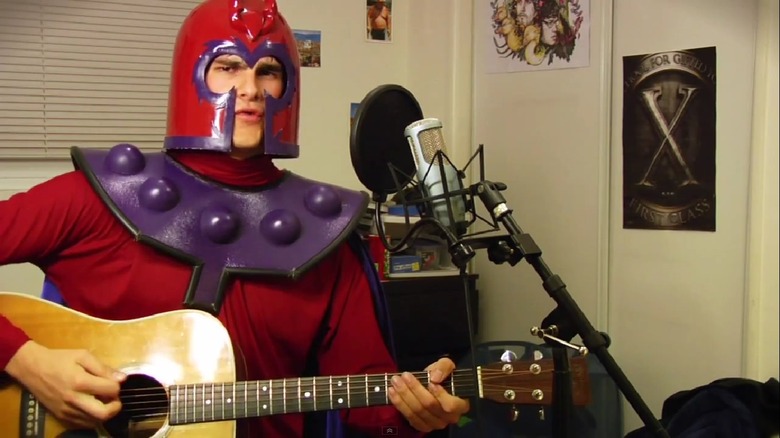 I've been listening to Henry Jackman's X-Men: First Class soundtrack on repeat ever since I saw the movie last week, so it's safe to say I'm a fan. Before that, I loved John Ottman's score from X2, and before that, I was humming along to the theme song from the '90s cartoon. Yet as wonderful as all of this X-Men-related music has been, there's always been something missing — and that something is words. You can hum along to these melodies, but you can't quite belt them out in the shower.
Thankfully, Ryan at TheWarpZone has taken it upon himself to rectify that. Inspired by the "epic win" of First Class, he's penned a new, much more shower-friendly song that pays tribute to the mutant superheroes. Even better, I don't have to learn a whole new tune, as the hilarious lyrics are set to Lady Gaga's inescapable "Born This Way." Watch him perform the whole thing on an acoustic guitar — while wearing a Magneto costume — after the jump. Oh, and don't worry if you haven't gotten around to seeing First Class just yet — the song contains no spoilers whatsoever.
[via The Daily What Geeks]
Technically, the X-Men aren't "born this way" — mutants are "born this way," but being an X-Man appears to be a choice — but point taken. Actually, considering how often the mutants' struggle in the X-Men series has been interpreted as a metaphor for real-life LGBT issues, it seems especially fitting for an X-Men parody song to be set to Lady Gaga's pro-gay anthem. I can only imagine that Iceman's coming out in X2 (as a mutant, I mean) would've been a little easier on the poor guy had he had either version of "Born This Way" to comfort him after the fact.
According to the video, TheWarpZone is prepared to make a full-on music video for their version of "Born This Way" if they get a good response — so if that sounds like something you'd be interested in, feel free to spread the word.