'Human Centipede' Director To The UK Rating Board: "Thanks For Spoiling My Movie!"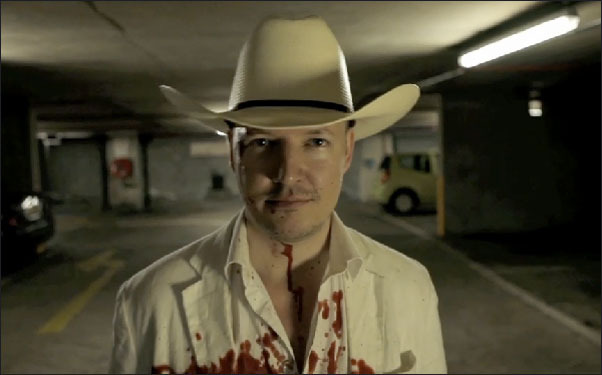 Some of the biggest news yesterday was that the UK rating board, the British Board of Film Classification, categorically rejected The Human Centipede II (Full Sequence) for an UK release, based on the fact that (in the eyes of the board) the film links violence and sexual arousal in an unacceptable way.
I theorized that the move would end up being great publicity for the movie, and indeed there are a great many people talking about the movie now who otherwise might not have cared. One person who definitely cares is the director, Tom Six, and he's not happy at all. But the reason for his displeasure might not just be the BBFC rejection, but the fact that in rejecting his film, the board gave away a great deal of the plot.
The director wrote to Empire, saying,
Thank you BBFC for putting spoilers of my movie on your website and thank you for banning my film in this exceptional way. Apparently I made an horrific horror-film, but shouldn't a good horror film be horrific? My dear people it is a f****cking MOVIE. It is all fictional. Not real. It is all make-belief. It is art. Give people their own choice to watch it or not. If people can't handle or like my movies they just don't watch them. If people like my movies they have to be able to see it any time, anywhere also in the UK.
(The censor stars in there were in the original email, which is a weird thing, given what we just heard about the content of his new movie.)
I'll let you check the post if you want the full spoilerish account of The Human Centipede II, but one thing we didn't print yesterday is the film's cast. Bloody Disgusting found that Ashlynn Yennie, from the first film, will again play Jenny. Laurence Harvey plays the new mad scientist, Martin. And Dominic Borelli, Vivien Bridson, Lee Harris, Peter Charlton, Bill Hutchens, Dan Burman, Daniel Jude Gennis, Kandace Caine, Maddi Black, Lucas Hansen, Georgina Goodrick and Emma Lock make up the rest of the cast. Which among them do you think gets the coveted first position in this new human centipede?
As to the question of art vs obscenity/exploitation, there's no way to judge at this point. Are you willing to take Tom Six's word on the film sight unseen?